AIOps Powered by LM Intelligence
At LogicMonitor, we believe technology should enable businesses to see what's coming before it happens. For engineers, this includes spending less time troubleshooting and more time innovating. LogicMonitor's LM Intelligence will deliver AI and machine learning that provide context, meaningful alerts, illuminate patterns and enable foresight and automation.
AIOps Early Warning System
LogicMonitor's Early Warning System will detect the warning signs and symptoms that precede issues, such as patterns or anomalies in alerts or performance data, and warn users accordingly. These early warnings will be able to trigger actions, such as integrations and custom scripts, to prevent issue occurrence. By warning users sooner, this Early Warning System will help enterprises prevent outages, saving them time, money, and avoid negative impact on their brands.
Using LogicMonitor's AIOps Early Warning System, you can easily see and understand potential issues in the system and be more proactive in resolving them. This is a great feature that is helpful in many use cases across IT infrastructures."
AIOps Early Warning System
Dynamic Thresholds
LogicMonitor has pre-configured thresholds set based on domain-specific best practices to ensure that meaningful alerts are triggered out of the box. With dynamic thresholds, LogicMonitor takes this a step further by calculating an expected range for a resource's performance, and only sends out notifications for triggered alerts that correspond to values outside of this range, thereby ensuring that alerts are only sent out for anomalies for that specific resource.
Some benefits of utilizing dynamic thresholds include:
Increase IT Efficiency: Customizing thresholds can be time-consuming & difficult for large environments. With dynamic thresholds, we'll ensure that alerts are only sent for anomalies, eliminating the need for manual management of monitoring & enabling you to increase your monitoring ROI.

Maximize Performance: Dynamic thresholds enable teams to understand expected performance and where performance deviates from what's normal & needs attention. At the same time, teams can ensure that they aren't receiving alerts for optimized machines that are regularly highly utilized.
Watch the Dynamic Threshold demo video: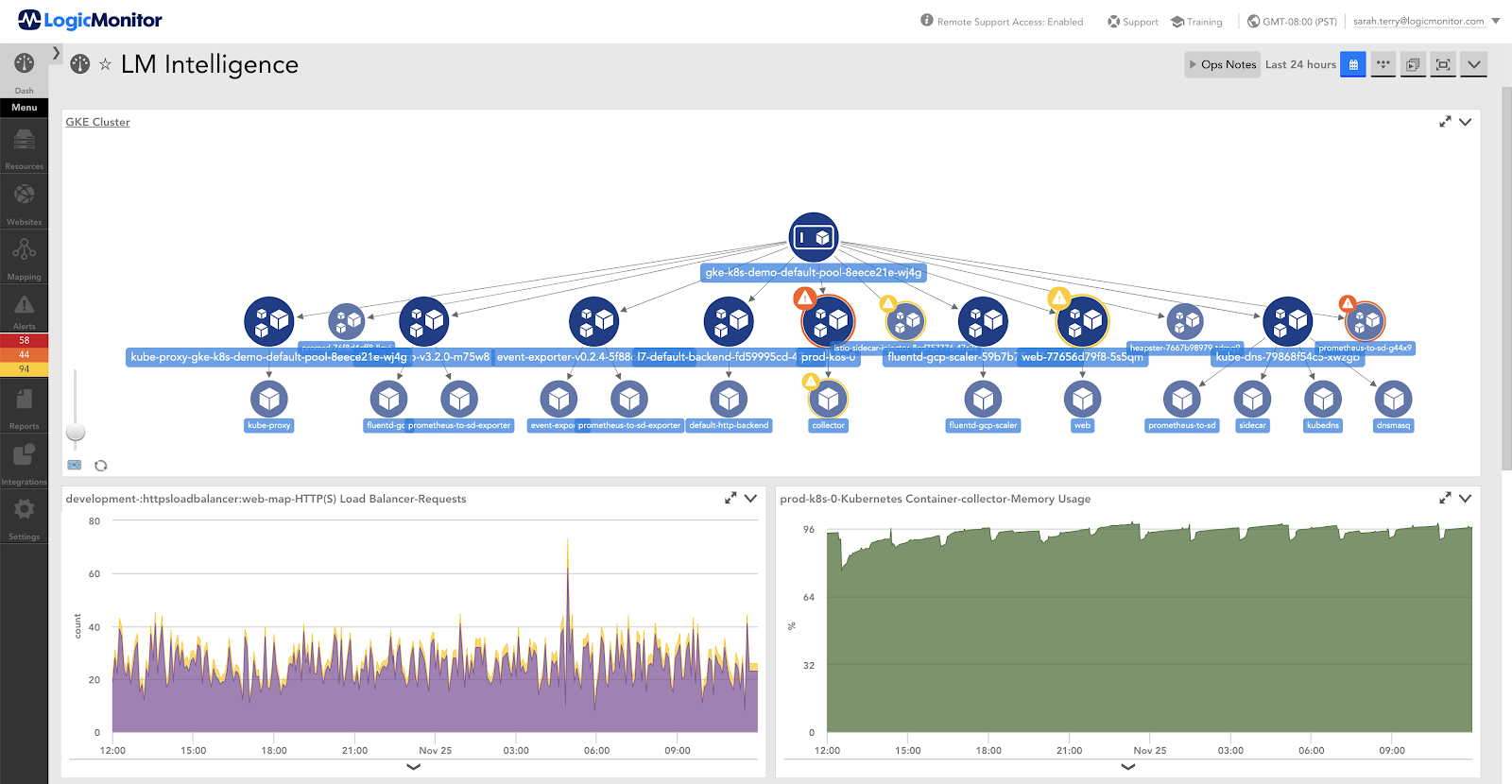 Linux machines notoriously generate lots of CPU performance alerts. These machines are being highly utilized intentionally and well within their limits, but it's creating noise, with LogicMonitor's dynamic thresholds, we only get alerted when CPU is truly abnormal."
AIOps Early Warning System
Root Cause Analysis
With root cause analysis, LogicMonitor uses automatically discovered relationships between monitored resources to identify the root cause for triggered alerts and notify users of the originating issue, while preventing notifications for dependent resources in alert. When a core or root device goes down affecting connectivity for downstream devices, Root Cause Analysis (RCA) will identify the originating and dependent resources and subsequent alerts and disable notifications for dependent resources.
How can Root Cause Analysis benefit you?
Identify Issues Faster: users are only notified for the root cause issue allowing them to focus on what's important without getting overwhelmed by dependent side-effect issues.

Improve MTTR: Alert notifications that identify the root cause and filterable in-app alert data enable your team to zero in on resources that play a key role in outages & more quickly identify and resolve issues.
Watch the Root Cause Analysis demo video: