Fierce Santa Ana winds, combined with dry brush and dead trees, fueled the start of multiple fires across Ventura, Los Angeles, San Diego, San Bernardino, Santa Barbara and Riverside counties this month. The Thomas Fire, which now spans Ventura, Ojai, Carpinteria, Montecito and Santa Barbara, is the 2nd largest fire in California history and is on track to become the largest, with a projected containment date of January 7, 2018. The Thomas Fire has created unhealthy to hazardous air conditions, posing a serious public health risk since it started on December 4th.
It has not been easy to find current and useful air quality information and historical air quality trends in one place since the Thomas Fire began. LogicMonitor's HQ is in downtown Santa Barbara (about 5 miles away from the fire) and the air quality issues have affected us directly, causing us to close the office for several days while it was at its worst. This situation creates an opportunity to put our technology to work to support our south coast communities.
We built a dashboard in LogicMonitor to display the current air conditions as well as provide historical trend data. LogicMonitor's air quality dashboard displays helpful metrics on current conditions affected by the Thomas fire, including:
Current air quality rating
Air quality trends
Temperature and humidity level tracking
Current wind speed and trends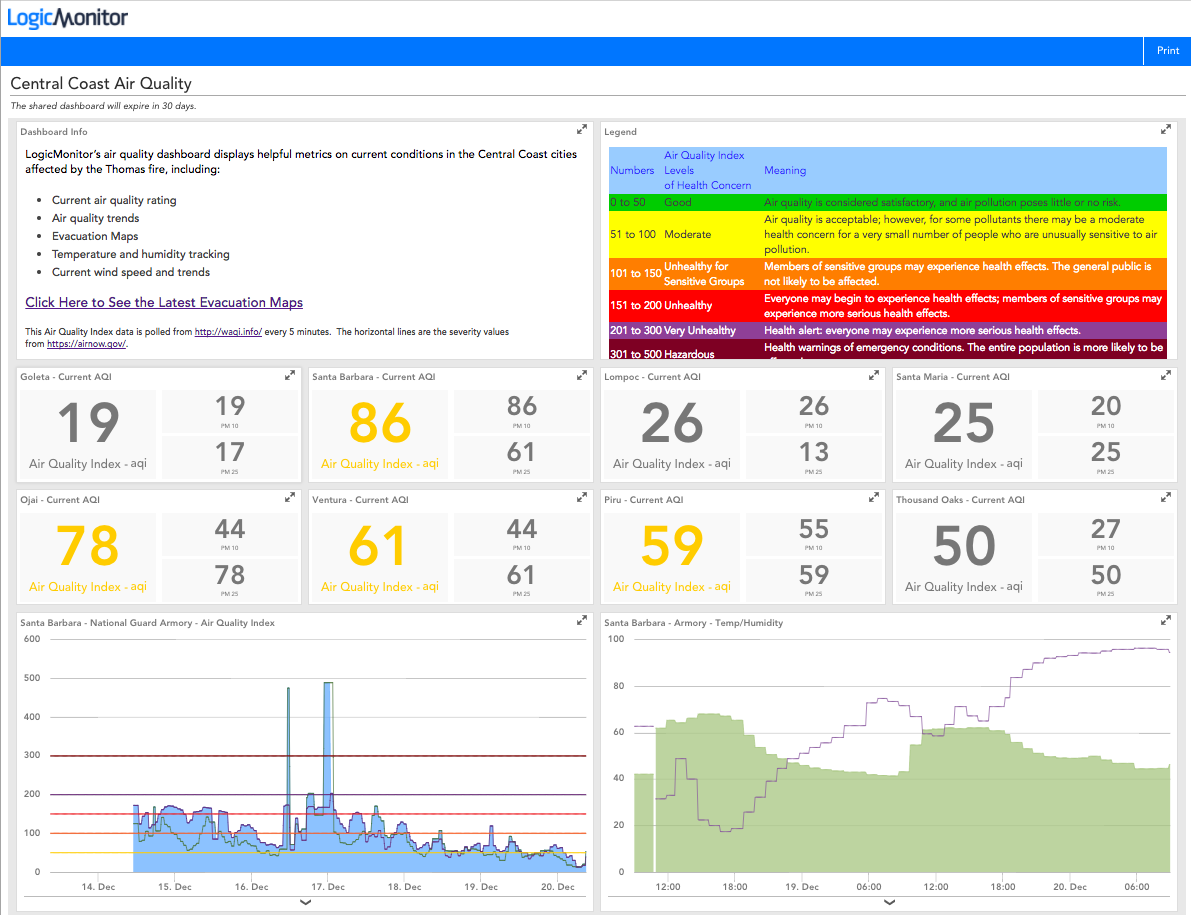 The Air Quality Index data is collected from https://waqi.info/ every 5 minutes. The horizontal lines are the severity values from https://airnow.gov/.
Now residents across Ojai, Ventura and Santa Barbara counties have access to real-time updates on air quality in their areas so they can monitor air conditions at any time and determine whether to wear a mask or take stronger measures to protect themselves and their families. Feel free to bookmark this site and share it with family and friends.
****Thank you to all of the firefighters who've risked their lives fighting the Thomas Fire! The LogicMonitor community is eternally grateful for your service.