Data security is more important than ever. High-profile cyber attacks in 2021, like the Colonial Pipeline Breach, caused major services to grind to a standstill. Ransomware is still on the rise, and there's a fear that cybercriminals have the ability to break through 93% of company networks.
However, coming offline to protect your business is simply not an option. In a digital-first world, just about every business depends on online connectivity to operate successfully. The numbers of virtual meetings, conferences, and conventions are at an all-time high, especially post-pandemic. Furthermore, businesses rarely conduct all of their services in-house anymore. From data integration to customer management, many aspects of the business are provided by third-party, cloud-based services. So how do companies keep their information and the information of their partners, customers, clients, and other stakeholders safe? And how do they do it while connecting to so many disparate providers and scaling their online presence?
While maintaining your own data security is critical, businesses also need to ensure that the vendors and partners they work with adhere to data privacy and secure information protocols to keep their data safe. To assess whether a service provider follows safe practices, make sure that they can provide you with a list of security certifications. In this blog, we'll consider why IT security certifications are so important and consider SOC 1, SOC 2, and ISO standards.
Why are IT security certifications so important?
All businesses protect data to some extent, but that extent may vary widely between entities. A customer service training academy is vital to many businesses but won't have the same volume of secure data to protect as a dedicated payroll management company. When these companies partner or hire each other for services, how do they know that their data will be handled in a manner that meets differing compliance requirements?
IT security certifications are a simple way for businesses in all industries to ensure that their IT service providers will protect their data to standards set by recognized regulatory bodies. Businesses should assess the IT certifications of several companies before choosing which provider they want to go with. To increase the likelihood of selection, it's important that IT companies obtain the most widely recognized and accepted certifications.
What are the top IT security certifications?
IT security certifications provide a risk management framework for businesses that need secure service providers. When looking for service providers, businesses should consider IT security certifications that are standardized and widely recognized across many industries. Top IT security certifications include:
SOC 1
SOC 2
ISO 27001
ISO 27002
SOC
SOC stands for System and Organizational Control or Service Organizational Control. Both of these names refer to the same thing: a type of compliance report that indicates the level of risk associated with outsourced services. When a business uses SaaS, PaaS, and other cloud-based services, it needs to know that the service providers take stringent measures to protect the financial information of both the company and its clients. SOC reports allow a provider to present a certificate that states that the service provider has met the minimum required standard for risk mitigation.
SOC audits or examinations are carried out by a certified public accountant (CPA). CPAs have the knowledge and expertise to ensure service providers are capable of the right levels of protection for their users. All the standards for SOC certifications are set by the AICPA, which stands for the American Institute of CPAs.
You may also see the same acronym SOC used for security operations center, a term used for a data security hub that helps businesses deal with cyberattacks. While somewhat connected in maintaining high levels of security, we won't consider this type of SOC further.
Most businesses are likely to run into SOC 1 and SOC 2 audits. Let's take a look at SOC 1 first.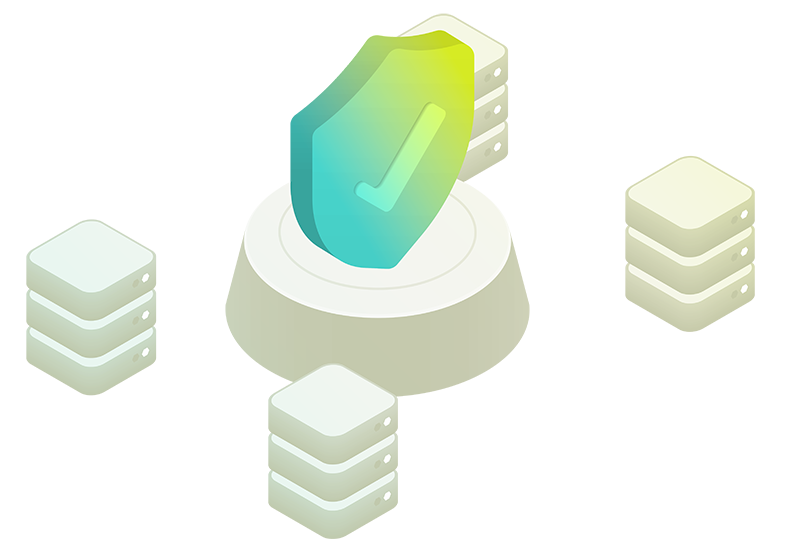 What is SOC 1?
SOC 1 is a standard that covers various internal controls over a service provider's client's financial information. This means that a SOC 1 auditor will look carefully at how IT service providers shepherd the financial information of their customers and clients: how do they protect it, and how do they ensure their own systems and any third parties they use are fit for the purpose?
The AICPA lays out strictly defined control objectives to help service providers clearly demonstrate that they can safely and securely deal with financial information. These control objectives cover all services the provider offers on the assumption that all of these services will come into contact with financial information at some point. A SOC 1 audit will carefully test the current control objectives, and if an organization meets all the required criteria, a SOC 1 certificate will be issued.
What is SOC 2?
SOC 2 is another common IT security certification that exists alongside SOC 1 and is not a replacement or update. Most organizations will have both SOC 1 and SOC 2 certification, or they may have ISO certification instead.
SOC 2 differs from SOC 1 in that it veers away from solely looking at financial information and instead covers the overall operations and compliance of the service organization. An SOC 2 certification means that the service provider has met certain criteria set by the AICPA, known as Trust Service Criteria. These five criteria or principles are:
Security
Availability
Processing Integrity
Confidentiality
Privacy
Interestingly, service providers can choose, to a certain extent, which criteria they wish to be assessed by. The only mandatory criterion is Security. The others depend on the nature of the business and the data that the organization has to protect. The Security principle has criteria in common with all of the other principles, which is why it is always mandatory in achieving the SOC 2 certification, regardless of industry.
SOC 2 vs. SOC 1
These two IT security certifications can exist together; the key difference is that SOC 1 covers financial information, while SOC 2 covers operations and compliance.
SOC 1 audits are always measured against objectives set by the AICPA. SOC 2 provides a framework of five key principles, including the mandatory Security principle, which contains criteria that also exist in the other four principles. Organizations may be able to gain a SOC 2 certification by simply satisfying the Security principle criteria, but the larger and more complex the organization, the more likely it will want to fulfill additional criteria from the other four principles.
ISO
Another common type of IT security certification you will come across is ISO. Companies can use the standards set forth in the ISO documents to ensure that they meet globally recognized conventions in their business transactions. The ISO certificate documentation can be purchased by companies who adhere to such standards.
What is ISO?
ISO is the International Organization for Standardization. 167 other standards organizations are members of ISO, helping to create standardized certifications that are recognized globally. ISO is not linked to any governmental organization. This independence makes ISO a trusted and widely used measure to see how well a product or service meets various required standards, including compliance and data security.
ISO numbers explained
There are various ISO numbers, and each one relates to a different standard. The standards tend to run in families; for example, the ISO 27000 family includes 27001, 27002, and more, and they all relate in some way to information security management and adjacent topics.
ISO 27001
This standard is one of the most recognized among IT security certifications. ISO 27001 relates directly to information security management, which is at the heart of data security. When used with other ISO standards, many also within the 27000 family, ISO 27001 gives a set of standards for companies to ensure they correctly manage their intellectual property and financial information, plus employee information and any information that has to be managed by a third party.
ISO 27002
ISO 27002 is another, more specific IT certification that covers information security controls related to privacy protection and cybersecurity. ISO notes that businesses should already have the framework provided by ISO 27001 to give context to the content of the standards of 27002. This allows companies to implement their information security management system, or ISMS, based on best practices recognized all over the world. ISO 27002 can also aid businesses in creating their own organization-specific guidelines for information security management.
ISO 9001
The ISO 9000 family is all about quality management. These standards are aimed at helping companies improve the overall quality of services or products in order to meet or exceed customer or client expectations. ISO 9001 is a critical standard as it sets out the general criteria for an effective quality management system. It's also the only standard within the 9000 family that carries a certification. ISO 9001 can be used in any industry, including information technology, to assure clients and customers that they are getting the best possible quality. This can also help businesses make informed choices about the IT service providers they work with.
ISO 27001 vs. SOC 2
When it comes to IT security certifications, which one should you choose? Is SOC 2 better than ISO 27001, or should you go with the standard provided by the globally recognized leader in standard certification?
Both risk mitigation frameworks cover similar topics and security controls. Each one will help you consider the policies, processes, and technologies that your company uses to protect its networks and other assets. While similar in scope, each standard suggests that organizations apply its controls differently. ISO 27001 focuses on the aforementioned ISMS, whereas SOC 2 applies the five Trust Service Principles.
It might be more complicated to gain ISO 27001 certification, especially as SOC 2 allows organizations to largely choose the criteria they want to be assessed by. However, ISO 27001 is recognized globally, which may entice businesses that want to expand the scope of their operations. SOC 2 is more applicable in North America, so it is often pursued by businesses that only operate in the United States and Canada.
Other IT Security Certifications
In addition to SOC 1, SOC 2, and ISO 27001, there are other IT certifications and reports you may come across when searching for service providers or looking to obtain the right level of certification for your own business.
SOC 3
A SOC 3 report is basically a simplified version of your SOC 2 audit. It's broken down into key takeaways, ideal for presenting to potential clients and stakeholders. It shows the overall opinion of the independent auditor, what was tested, and the results, plus contact details if the person viewing the SOC 3 report needs more information.
NIST
NIST is the National Institute of Standards and Technology. This federal agency is part of the Department of Commerce and primarily sets standards for federal information systems. According to the Federal Information Security Modernization Act (FISMA), products, apps, or services that don't meet minimum NIST requirements cannot be used for federal purposes.
FedRAMP
FedRAMP stands for Federal Risk and Authorization Management Program. Another government-created set of security principles, these relate specifically to cloud-based products and services. If you want your online app or SaaS products and services to be suitable for federal use, you must make sure it legally meets FedRAMP requirements.
If you have more questions about the right IT security certifications for your business, chat with us. LogicMonitor has been through the process of SOC and ISO 27000 standard certification, and we recognize the importance of maintaining the highest standards for data security. This enables us to deliver a safe observability and monitoring experience for our customers and end users.