Configuration Monitoring
LogicMonitor's configuration monitoring allows you to view, monitor, manage and alert on device configurations all within a single platform. Correlate configuration file monitoring and storage with infrastructure performance across networks, data centers and customer locations.
Configuration monitoring without the hassle
Configuration monitoring with LM Envision integrates configuration monitoring directly into LogicMonitor's infrastructure platform using a combination of active discovery, change detection, customizable alert checks, and automatic storage of configuration file history. Out-of-the-box support for Groovy and Powershell scripts give visibility into performance and availability while speeding up service problem resolution and freeing up resources.
LM Config fits with the whole mindset of why iVision uses LogicMonitor in the first place: its flexibility.

GREG LASKEY NETWORK ANALYST/SECURITY, ECUMEN
Seamlessly correlate performance to configuration changes in your IT environment
Understand how infrastructure performance is affected by configuration changes to ensure the changes have the desired impact.
The LM Envision platform stores configuration files for up to one year, ensuring access to previous configurations regardless of device status.
Compare and download previous configuration versions; restore downloaded configurations via LogicMonitor or through the application of your choice.
Improve configuration management efficiency
Configuration monitoring doesn't have to be difficult. Reduce your dependency on multiple device-specific tools. LM Envision collects, visualizes, and alerts on configuration devices across your entire environment.
Automatic discovery and storage for all device configurations
Seamlessly monitor changes to device configurations with intelligent alerting
Visualize resources and device changes across device types
Manage configurations with built-in automation and intelligence on a platform that scales and evolves with your business
Prevent outages and reduce MTTR with customizeable configuration alerts
Accelerate service problem resolution by correlating configuration changes with performance data. Use configuration alerts to reduce time spent troubleshooting config files.
Customize alerts to ensure that any configuration changes are authorized and comply with security policies.
View and manage configuration alerts, differences, and history alongside device performance metrics.
Easily identify when a configuration change is related to a health or performance issue on a dependent device.
Configuration Monitoring Benefits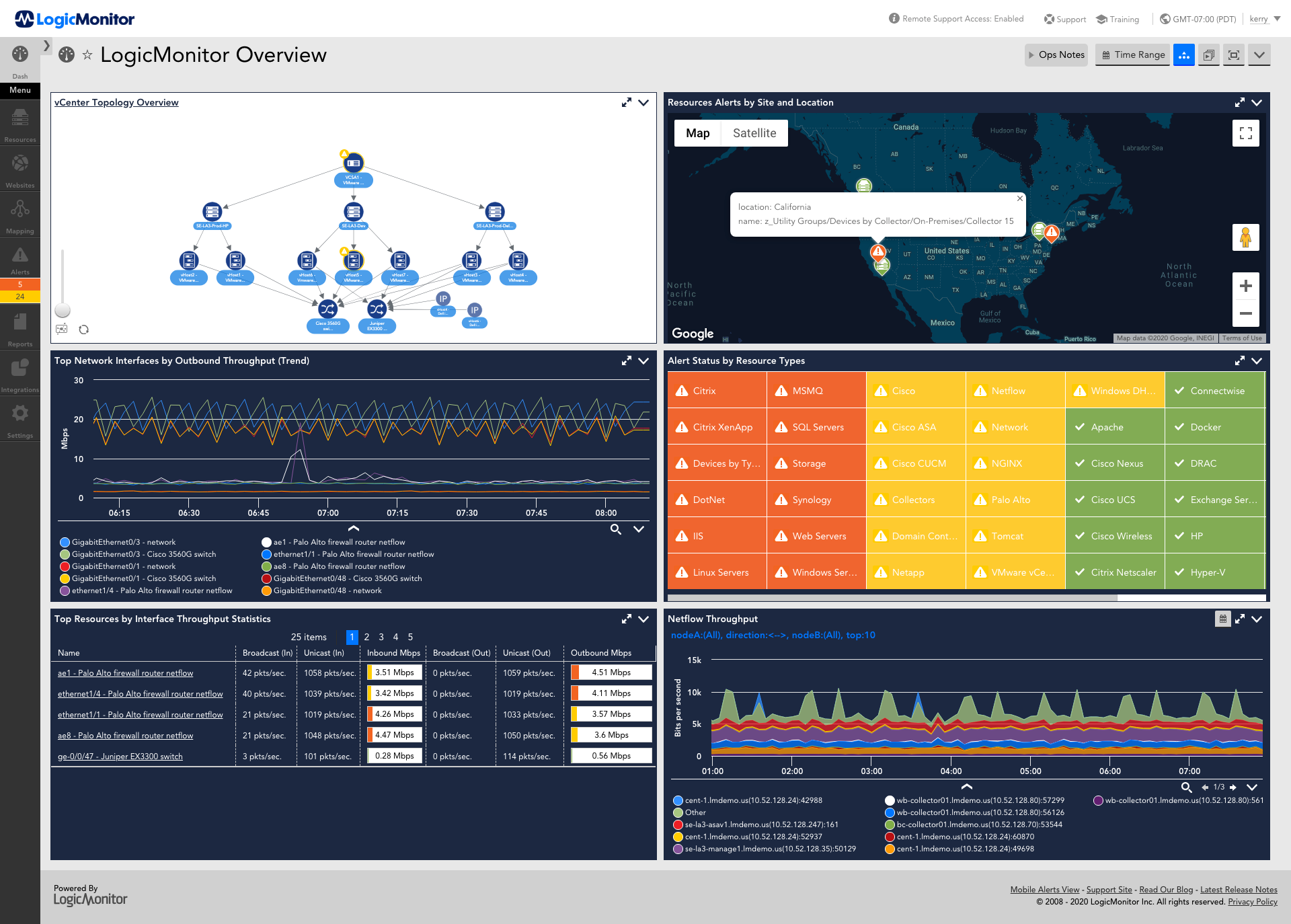 Correlate performance to configuration
In addition to increasing compliance and consolidating tools, putting configuration and infrastructure monitoring in the same platform allows teams to correlate performance data with changes to device configurations.
Enable DevOps with an IaC approach
Alert on configuration changes the same way you alert on performance metrics.
Consolidate tools
Consolidate tools and put configurations in the same window as your infrastructure monitoring.
Eliminate complexity
Maintain standardization and compliance policies even as your business scales in size and complexity.
Streamline development
Flag policy violations when they happen and update configurations on the fly without bringing development to a standstill.
Scale effortlessly
Partner with the only monitoring solution that drives transformation and scales with you. Our configuration monitoring ensures your infrastructure stays healthy as infrastructure complexity grows.
Configuration Monitoring FAQs
What is LM Config?

A feature which provides configuration file monitoring and storage directly in the LogicMonitor platform using a combination of Active Discovery, change detection, customizable alert checks, and automatic storage of configuration file history.

What are ConfigSources?

ConfigSources define how the LM Collector should retrieve data from a monitored device, as well as which devices should be monitored.

Why are config files important?

A configuration file tells a device how it should function. These files are often highly customized for a particular application and changes to them can have profound effects on an IT environment. A misconfigured configuration file on a single device can bring down an entire network.

What kinds of devices use config files?

Primarily network devices such as routers, switches, and firewalls. But also applications like Apache, MySQL, and our own Collector.

What Is Configuration Management?

A systems engineering process for establishing and maintaining consistency of a product's performance, functional, and physical attributes with its requirements, design, and operational information throughout its life.
Sign up for your free 14-day trial
Go beyond website monitoring with full access to the LogicMonitor platform. Comprehensive monitoring and alerting for unlimited devices and the full suite of core platform features.
Features include:
AIOps early warning system
Automated device discovery
Alerting and escalation chains
2000+ monitoring integrations
100+ pre-built dashboards
Comprehensive training modules
24/7 chat support
Sign up today
Get full stack visbility with infrastructure monitoring
Gain full-stack observability across cloud, on-premises, and hybrid environments with cloud-based infrastructure monitoring. Cut down your MTTR and make informed decisions with AI-powered intelligence for IT Operations.
Configuration monitoring across clouds
Whether you're building a EC2 Instance in AWS or clusters in Azure, correlate changes in configuration with performance trends and availability events. View resources and cofigurations across cloud services in a single resource pane.
Understand how your network is affecting service delivery
With over 2000 integrations, LogicMonitor has your cloud, on-premises, and hybrid IT environments covered and has the power to drill into your applications, servers, storage arrays and more. Out of the box integrations with Netflow, sFlow, jFlow, WMI, Cisco, firewalls, routers, switches and thousands more give you the comprehensive solution you need to see more faster.