Configuration Monitoring
LogicMonitor's configuration monitoring allows you to view, monitor, manage and alert on device configurations all without leaving the LogicMonitor platform. Correlate configuration file monitoring and storage with infrastructure performance across networks, data centers and customer locations.
Flexible configuration management to significantly reduce MTTR
LogicMonitor's Configuration Monitoring, LM Config integrates configuration monitoring and management directly into LogicMonitor's existing infrastructure platform using a combination of Active Discovery, change detection, customizable alert checks, and automatic storage of configuration file history. Organizations receive visibility into performance and availability while speeding up service problem resolution and freeing up resources.
Understanding how it works
LM Config fits with the whole mindset of why iVision uses LogicMonitor in the first place: its flexibility.

GREG LASKEY NETWORK ANALYST/SECURITY, ECUMEN
Seamlessly correlate performance to configuration changes in your IT environment
Understand how infrastructure performance is affected by configuration changes to ensure the changes have the desired impact.
LM Config stores configuration files for up to one year, ensuring access to previous configurations regardless of device status.
Compare and download previous configuration versions; restore downloaded configurations via LogicMonitor or through the application of your choice.
Improve efficiency and reduce MTTR
LM Config drives efficiency by automatically discovering, storing, and monitoring changes to device configurations. Speed up service problem resolution by correlating configuration changes with performance data.
Customize Configuration Alerts
Customize alerts to ensure that any configuration changes are authorized and comply with security policies.
View and manage configuration alerts, differences, and history alongside device performance metrics. Easily identify when a configuration change is related to a health or performance issue on a dependent device.
Help IT deliver outcomes, not bottlenecks
Use LogicMonitor's built-in automation and intelligence to manage configurations with a platform that scales and evolves with your business.
Configuration Monitoring Benefits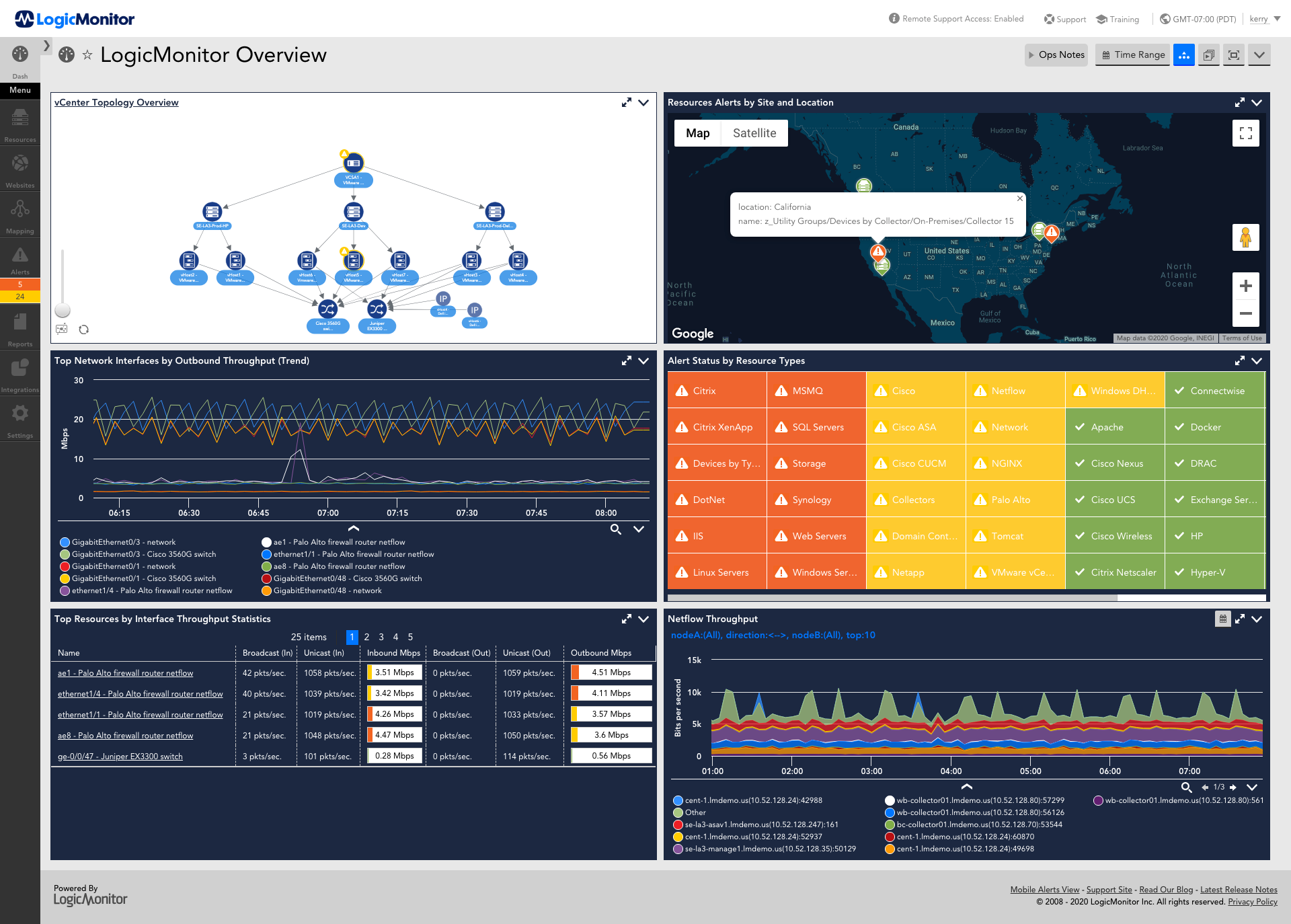 Correlate performance to configuration
In addition to increasing compliance and consolidating tools, putting configuration management and infrastructure monitoring in the same platform allows teams to correlate performance data with changes to device configurations.
Enable DevOps
With a "Trust but Verify" approach you can now alert on configuration changes the same way you alert on performance metrics.
Consolidate tools
Consolidate tools and put configuration management in the same window as your infrastructure monitoring.
Eliminate complexity
Maintain standardization and compliance policies even as your business scales in size and complexity.
Streamline development
Flag policy violations when they happen and update configurations on the fly without bringing development to a standstill.
Scale effortlessly
Partner with the only monitoring solution that drives transformation and scales with you. Our configuration monitoring ensures your infrastructure stays healthy as infrastructure complexity grows.
Configuration Monitoring FAQs
What is LM Config?

A feature which provides configuration file monitoring and storage directly in the LogicMonitor platform using a combination of Active Discovery, change detection, customizable alert checks, and automatic storage of configuration file history.

What are ConfigSources?

ConfigSources define how the LM Collector should retrieve data from a monitored device, as well as which devices should be monitored.

Why are config files important?

A configuration file tells a device how it should function. These files are often highly customized for a particular application and changes to them can have profound effects on an IT environment. A misconfigured configuration file on a single device can bring down an entire network.

What kinds of devices use config files?

Primarily network devices such as routers, switches, and firewalls. But also applications like Apache, MySQL, and our own Collector.

What Is Configuration Management?

A systems engineering process for establishing and maintaining consistency of a product's performance, functional, and physical attributes with its requirements, design, and operational information throughout its life.
Get full stack visbility with infrastructure monitoring
Gain full-stack observability across cloud, on-premises, and hybrid environments with cloud-based infrastructure monitoring. Cut down your MTTR and make informed decisions with AI-powered intelligence for IT Operations.
AI assistance at scale
LogicMonitor allows enterprises to rise above the limitations of legacy monitoring tools. Our AIOps platform is a future-proof solution that scales with our customers' expectations – providing these AI-based features to help streamline troubleshooting and proactively prevent issues.
Understand how your network is affecting service delivery
With over 2000 integrations, LogicMonitor has your cloud, on-premises, and hybrid IT environments covered and has the power to drill into your applications, servers, storage arrays and more. Out of the box integrations with Netflow, sFlow, jFlow, WMI, Cisco, firewalls, routers, switches and thousands more give you the comprehensive solution you need to see more faster.