Network Monitoring
Monitor the health and performance of your entire network infrastructure in one secure platform. Deploy in minutes with our agentless, cloud-based collector.
Unified observability for network infrastructure
LogicMonitor provides a complete view of your network so you can quickly identify and troubleshoot network issues. With powerful visualizations and custom dashboards, you can rapidly understand how your systems are connected and what issues are impacting performance.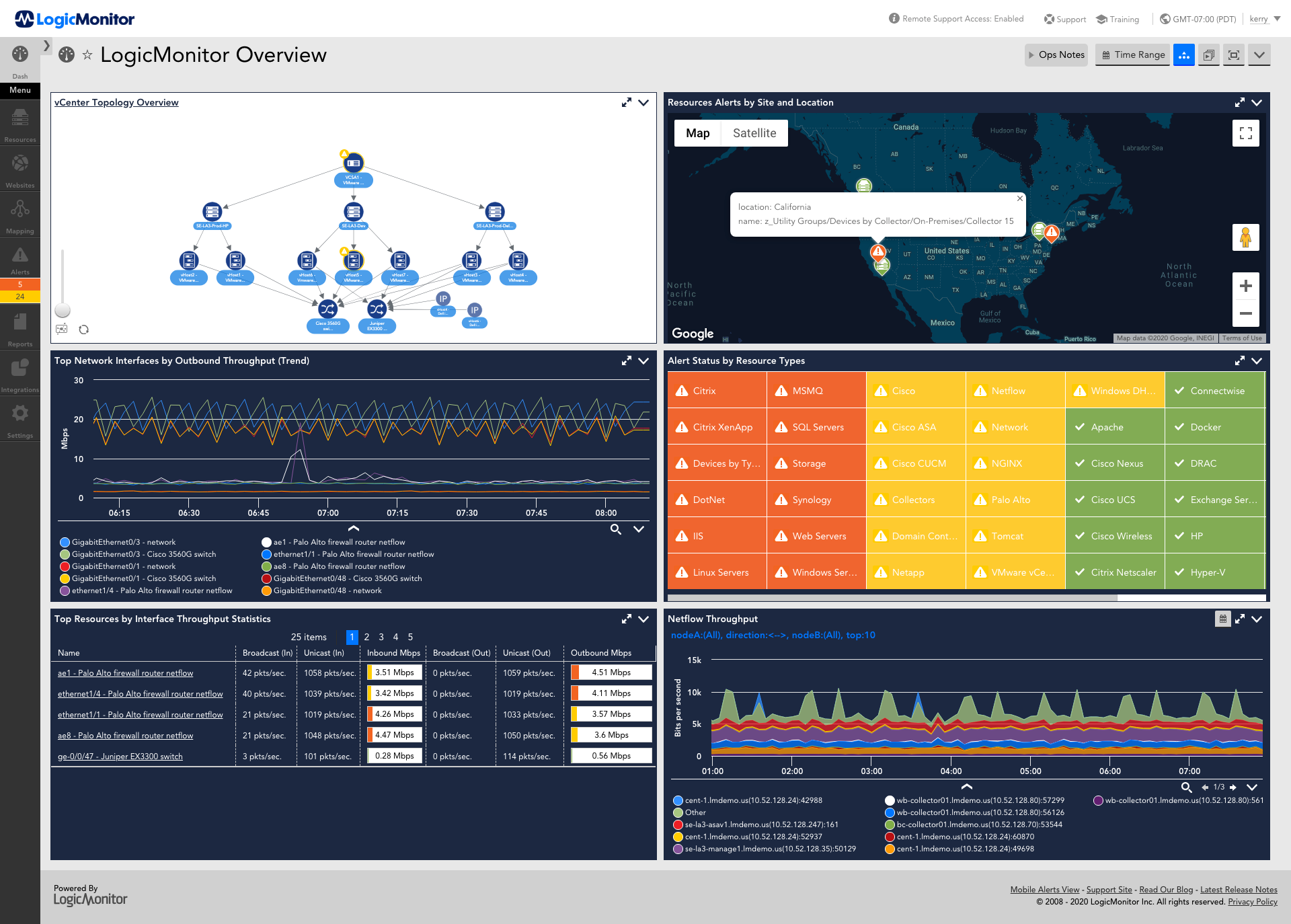 Seamless visibility into your entire network
Advanced coverage for any network:
Monitoring via SNMP, jFlow, NetFlow, sFlow, WMI, NBAR2, and/or IPFIX.
Monitoring for firewalls, routers, switches, wireless devices, load balancers, and more.
Support for SD-WAN and cloud-based networks.
Network topology mapping, root cause analysis, and intelligent alerting.
Automated setup and configuration with dynamic discovery of new network devices.
Network monitoring that deploys in minutes, not weeks
LogicMonitor utilizes a lightweight, agentless collector to discover everything you need to know about your network automatically. Just enter a hostname or an IP address, and within minutes you'll have the monitoring, alerting, and graphing you need to maintain and optimize network infrastructure. Get the coverage you need for the most complex networks – whether resources are on-premises, spread across multiple data centers, or in the cloud.
Improve network health and optimize performance
LogicMonitor's dashboards, topology mapping, forecasting, and detailed reporting elevate visibility into network performance and help identify bandwidth issues and performance bottlenecks.
Visualize with network topology mapping
With auto-generated topology mapping, LogicMonitor allows you to discover and map relationships between critical infrastructure resources. Drill down further and generate a topology map based on an alerts to streamline your troubleshooting workflow and quickly discover the root cause of performance impacting issues.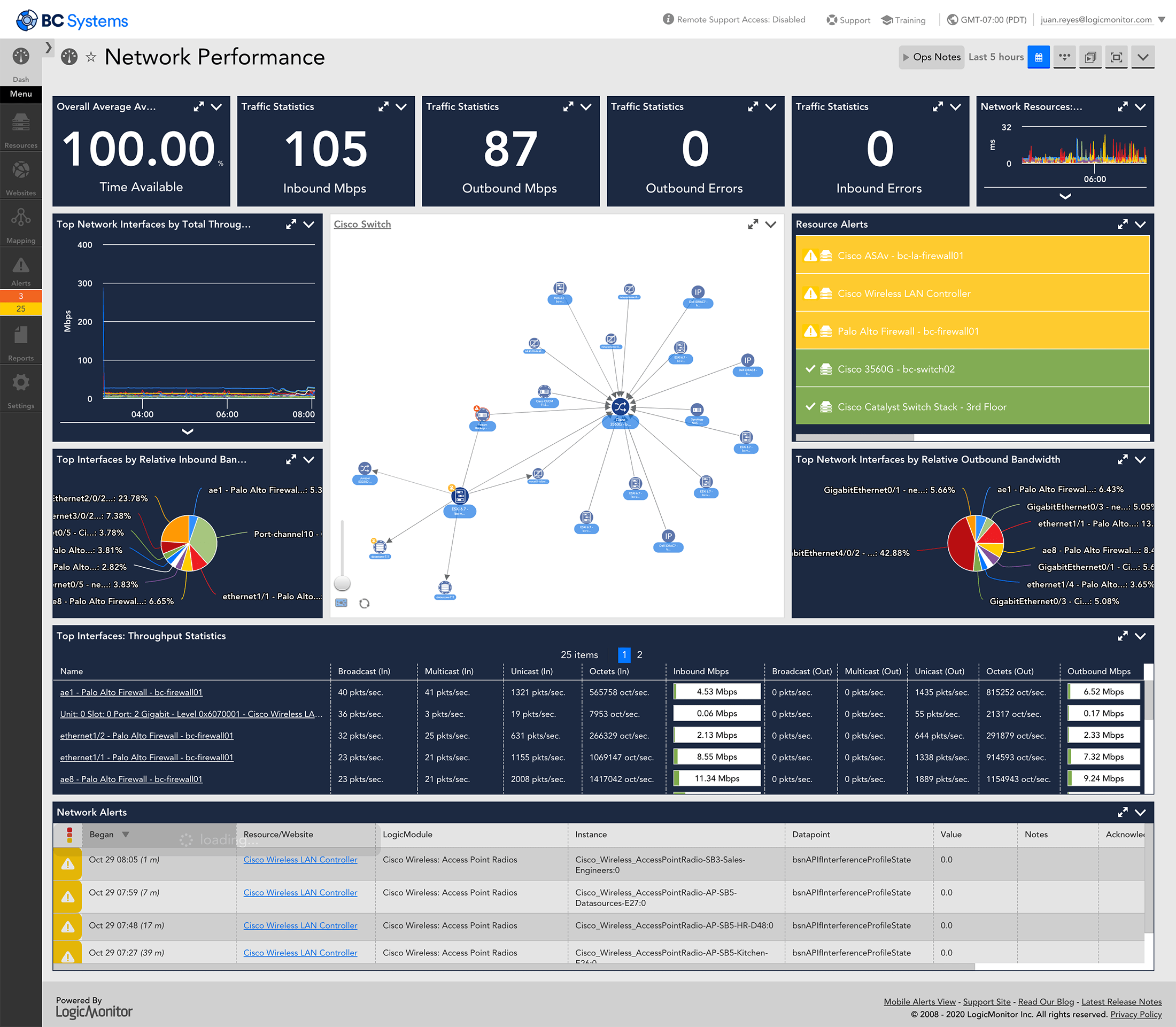 See how we stack up
Using LogicMonitor as a Non-MSP
We've recently started to integrate the LM Logs and Configuration monitoring into our system. This has drastically helped in reducing troubleshooting time for issues.
May 17, 2021
Best performance monitoring tool
It has both real-time and historical performance data for server CPU, memory, disk I/O, and network usages, all displayed in beautiful graphs. Very convenient for performance troubleshooting or determining whether a device is over or underused.
May 14, 2021
LogicMonitor is one of the best monitoring tool I have ever deployed.
LogicMonitor support is very good. Their response time is fast and we didn't have any issues.
Sep 10, 2020
LM Review
Well suited where an organisation wishes to have a unified view of hardware stats and software stats… single monitoring window.
Dec 30, 2020
The Lowdown on LM
[LogicMonitor is] great for keeping an eye on infrastructure at a small scale (office-wide) or large scale (planet-wide).
Dec 18, 2020
LogicMonitor will become your Ops Team process improvement tool
We are a managed services IT staff and use LogicMonitor to support our clients and our own infrastructure. We sell monitoring as a service and Logic Monitor serves a critical role in that service.
Dec 14, 2020
LogicMonitor is Time Saving Magic!
We implemented LogicMonitor to gather more information regarding our servers and appliances with far less configuration compared to previous laborious and custom solutions.
Dec 13, 2020
Second time LogicMonitor customer
LogicMonitor gives us a single pane of glass to view all of our infrastructures; from legacy hardware to bleeding-edge cloud resources. LogicMonitor also provides excellent default thresholds and alerting behavior, giving us huge gains in time for resolution compared to our previous toolset.
Dec 11, 2020
LogicMonitor is how monitoring should be.
The ability to customize reports and dashboards is key as an MSP, because we can present custom tailored dashboards to our customers on request.
Dec 10, 2020
LogicMonitor the Network Monitoring Tool You've been Searching for!
The application is integrated with our ticketing system and allows us to quickly respond to alerts. It also allows for two way communication between our ticketing system and Logic Monitor.
Dec 10, 2020
LogicMonitor network monitoring benefits
Get the metrics that matter
Quickly drill down into network devices, interfaces, firewalls, routers and switches. Monitor CPU, memory, temperature, fan and other hardware components. Drill down into throughput, packet and error rates, utilization, and wireless access-points. Track BGP sessions and OSPF adjacencies. If it puts out data, we can monitor it.
Keep your team informed
Keep your teams connected and streamline workflows with built-in integrations for service management tools like ServiceNow, Autotask and Connectwise, communication tools like Slack and HipChat, or incident notification tools like PagerDuty.
Turn data into insight
At-a-glance status dashboards are automatically created for each of your services based on industry best practices, making it easier to parse through data and take action immediately. Combine data from across your infrastructure stack to create an application- or service-specific views you or your customers need.
Reduce alert noise
Put an end to alert storms with intelligent anomaly detection and root cause analysis. Distinguish service-impacting alerts from non-service impacting alerts, and reduce how often you get woken up in the middle of the night.
Identify performance trends
Pre-configured alert thresholds ensure that you receive meaningful alerts right from the start, and help you to proactively prevent downtime. Easily tune thresholds on a global, group, or object level.
Enable proactive insights
Use Network Traffic Flow to get full visibility into what's going through your network from ingress to egress. Proactively identify bandwidth issues, performance bottlenecks, and DDoS attacks by tracking flow data via NetFlow, Jflow, and sFlow.
Trusted by:
Network monitoring FAQs
What is network monitoring?

Network monitoring provides the real-time information needed to determine the overall performance of a computer network. These solutions proactively detect and provide solutions for problems in a network by comparing live performance against an expected performance baseline.

How does network monitoring work?

Networks can be monitored by discovering devices within a network and correlating that information with the data those devices on the network are outputting.

Why is network monitoring important?

Monitoring your network is crucial for businesses to ensure uptime within your network, to troubleshoot issues, and to proactively plan for the future.

Which network monitoring tool is the best?

LogicMonitor's cloud-based observability platform is a leader for network monitoring, infrastructure monitoring, and beyond.

Why Should you monitor your network?

Networks need to be monitored to maintain uptime. Monitoring specific devices within each network can show what resources are being allocated where, and what devices are using the most bandwidth.

Is LogicMonitor Network Monitoring Agent based or agentless?

LogicMonitor's network monitoring is agentless, so no physical devices need to be installed to start monitoring your entire network.

What is network performance monitoring?

Network performance monitoring measures the real-time health of your entire network of connected devices, to ensure reliability and uptime.

What is network topology mapping?

Network topology mapping is the process of graphing network-connected devices and the data collected within devices together to form a map of where network data streams through and how.

What's the difference between network monitoring and network performance monitoring?

Network monitoring measures all of the devices within a network, while network performance monitoring measures the overall health of that network. The two terms are similar, and in most functional instances can be used interchangeably.