Virtual Machine Monitoring
LogicMonitor provides in-depth, agentless monitoring of your entire virtualization stack in a snap. Automatic discovery of virtual machines, hypervisors, and hosts – requiring no manual configuration or additional hardware – provides in-depth analysis and visualization within minutes. Deliver uptime that gives you downtime with LogicMonitor's automated monitoring platform.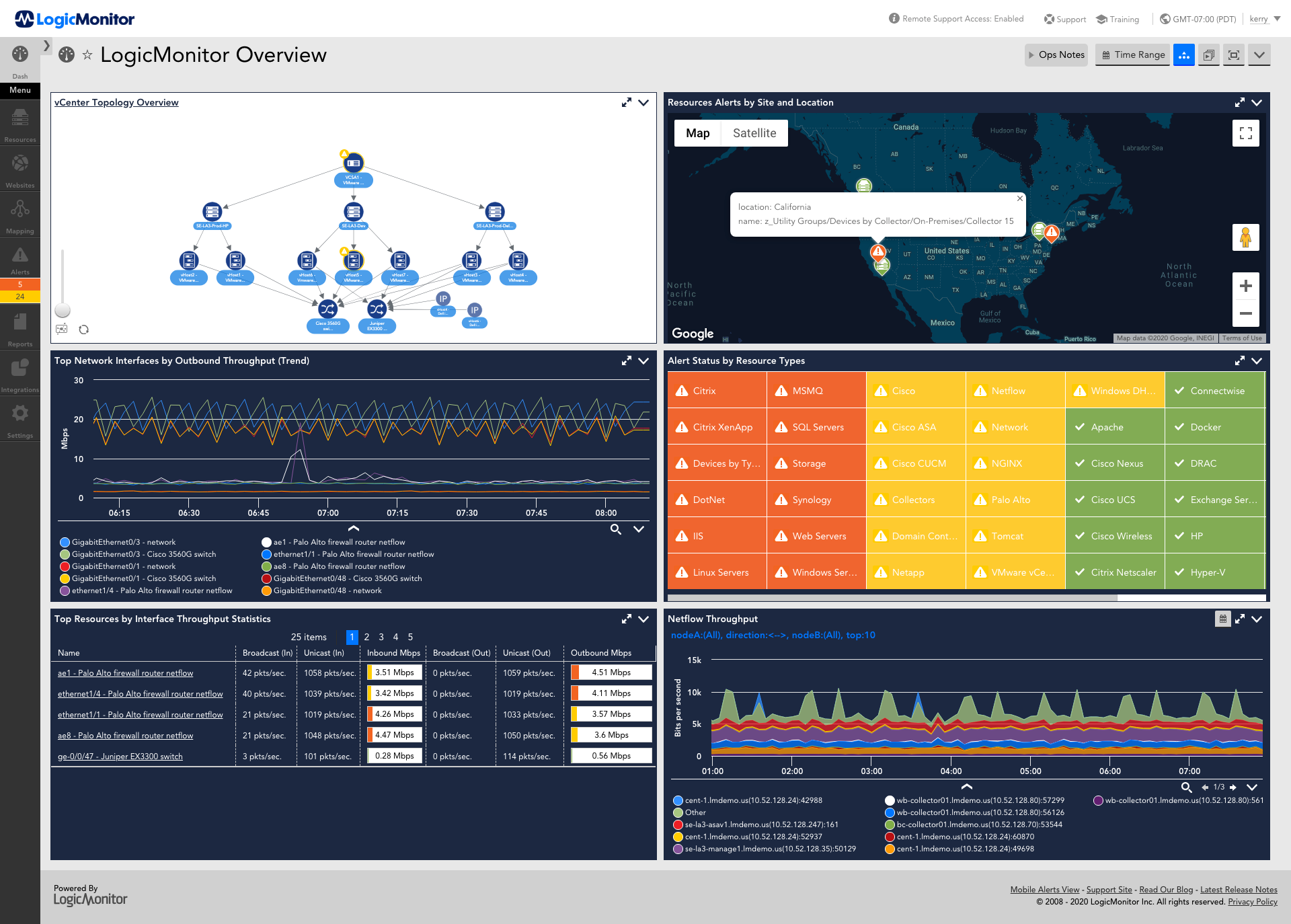 End-to-end monitoring for your virtualized infrastructure
Virtualization provides server consolidation, and improved utilization of your compute resources. However, it's difficult to know if your virtualization strategy is leaving resources unused or overtaxed unless you're monitoring the details of your virtualized infrastructure. LogicMonitor removes the guesswork by automating the monitoring of your entire virtualization stack.
Improve performance and maintain service health
LogicMonitor provides comprehensive monitoring of VMware vCenter, VCSA, Horizon, and more. Our agentless collectors go beyond baseline performance monitoring and map the dependencies of your VMs, the applications running on them, and the backend infrastructure your VMware services rely on. Intelligent thresholds built on machine learning warn you of impending issues affecting your virtual machines and provide recommendations to improve performance and meet your SLAs.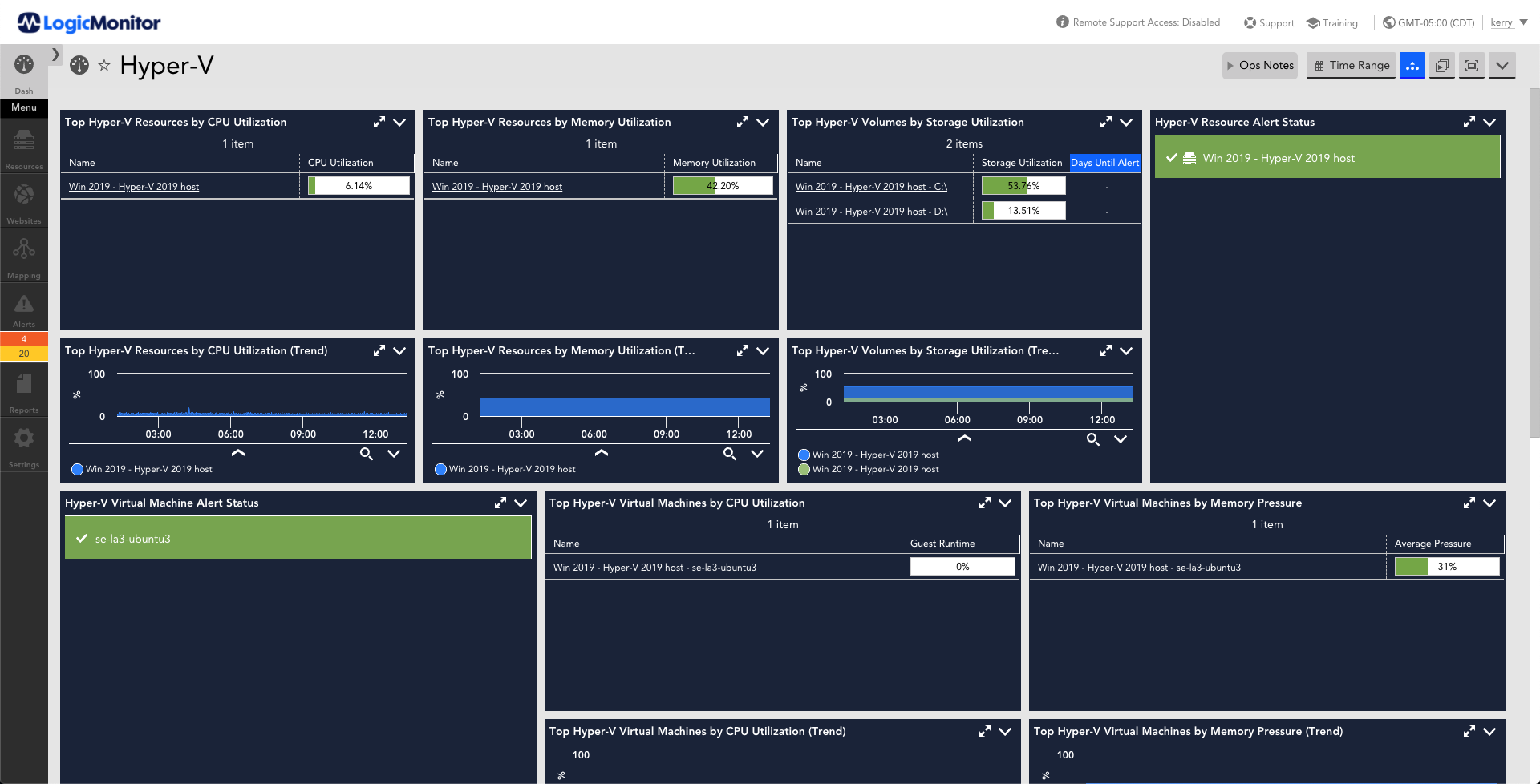 Maintain and optimize your hypervisors for flawless deployments
The hypervisor is the core of Hyper-V; understanding the interplay of physical and logical processors, memory usage, and pressure is critical to managing resource utilization. LogicMonitor provides comprehensive visibility into Hyper-V, whether deployed on-prem or cloud, with pre-defined alerts and root cause analysis to help you alleviate issues quickly.
Easily monitor hyper-converged infrastructure
LogicMonitor's Active Discovery always looks for new virtual machines on your Nutanix hypervisor host. Spun up a new instance? LogicMonitor will discover it in minutes – no additional configuration required! Survey CPU, memory utilization, storage IOPS/latency, and network throughput performance of top VMs at a glance to quickly identify outliers and potential misconfigurations.
Keep supporting services running like clockwork
Whether you are running Cisco HyperFlex, Viptela, or any other SD-WAN technology, LogicMonitor will ensure all the pieces of your virtual environment work together seamlessly. In addition, with AI-driven dynamic thresholds, your team can quickly troubleshoot anomalous network or hypervisor activities that fall out of the expected range.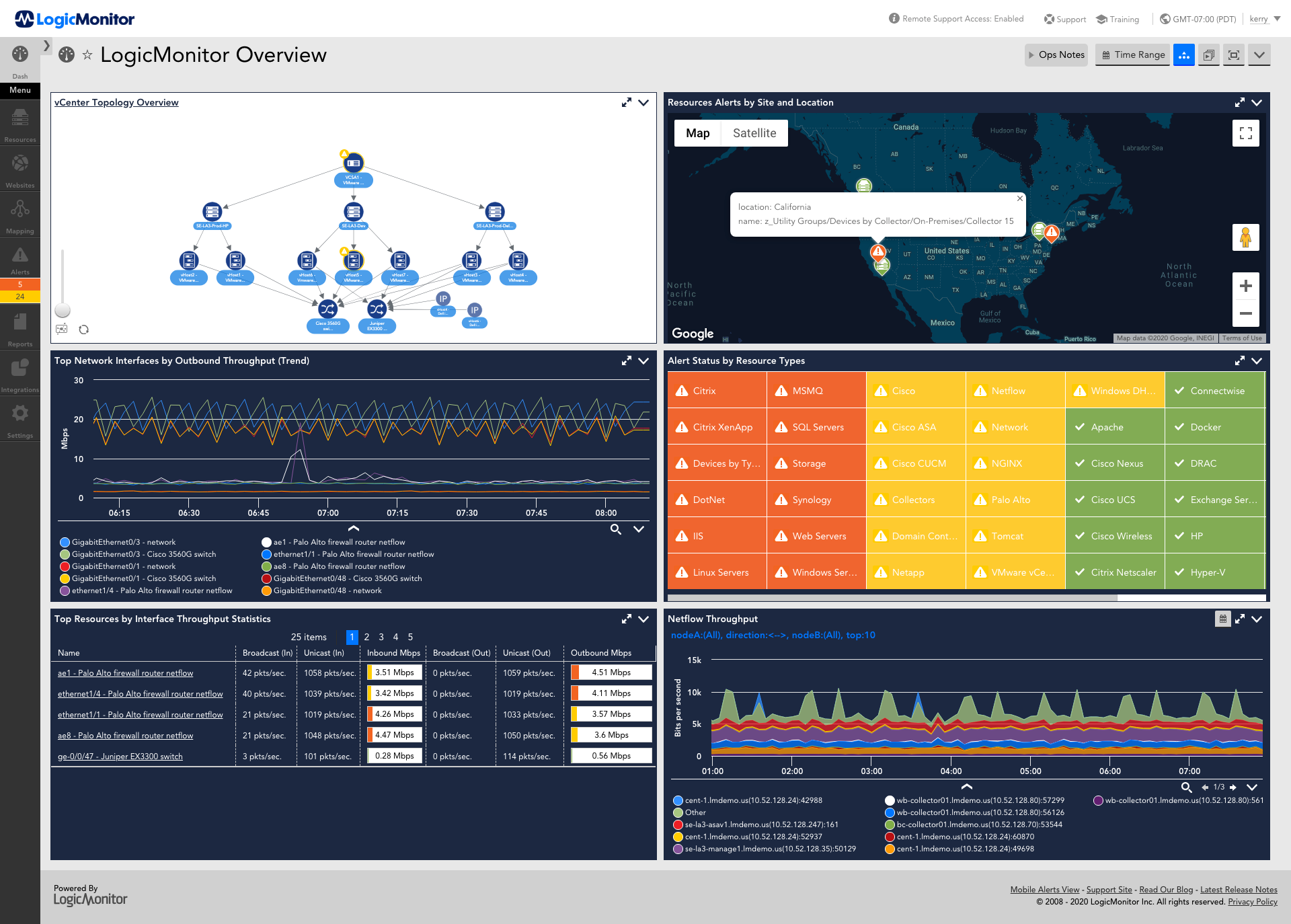 Monitor your entire stack in one unified platform
Monitor the health & performance of your storage systems, network devices, logs, applications, and more. With out-of-the-box monitoring support for over 2000 technologies, LogicMonitor makes it easy to keep track of all the critical pieces that hold your infrastructure environment together.
PROVIDING UPTIME AND RELIABILITY TO OVER 2000 GLOBAL COMPANIES
Get the metrics that matter
Easily monitor and improve Virtual Machine performance within a single system. Whether your resources are hosted on-premises, in the cloud, or in multiple geographic regions or data centers, LogicMonitor provides a single pane of glass view for all the metrics that matter.
Visualize and share critical metrics in user-friendly, drag-and-drop dashboards with a range of widget styles.
Correlate critical VM metrics to other aspects of your infrastructure, including networks, storage, and log data, to rapidly perform root cause analysis that will improve MTTR
Get real-time alerts to optimize resource utilization and prevent capacity issues across storage, memory, and CPU.
Prevent alert storms with intelligent thresholds, SLA monitoring, and escalation chains tuned for your environment.
Save time, money, and resources
The continuous growth of VMs and their usage can negatively affect application performance and server operating times – draining important resources. Utilizing LogicMonitor's out-of-the-box under and over-utilized resource dashboards, you can:
Quickly identify the virtual machine resources taxing performance and causing issues in your environment.
Right size your virtual machine infrastructure in-real time to reduce excess capacity and save money.
Automatically prevent service-impacting problems with automated monitoring and AI-based alert thresholds.
Proactively prevent outages with intelligent monitoring
With powerful AI features built-in, keeping your virtualized infrastructure optimized and available has never been easier. Detect issues sooner with dynamic thresholds, reduce MTTR with root cause analysis, proactively prevent issues, and plan future resource allocation with automated forecasting.
Dynamically generate topology maps that show how data flows among complex resources
See alerts within your infrastructure on a topology map to streamline troubleshooting and reduce MTTR
Pinpoint anomalies that occur for a monitored resource and compare that anomaly to key historical signals
"The built-in alerts are fantastic! Other solutions I've used typically collect the data. Then I go in manually and create alerts. With LogicMonitor, I have hundreds of built-in, pre-configured alerts ready to go with the ability to tune a single object, a group, or the entire organization."

TYLER C SERVER AND CLOUD ENGINEER
Go beyond monitoring. Accelerate business growth with award-winning Professional Services
Our monitoring platform is exceptionally easy to deploy and manage. Helping you work easier, faster, and smarter. But LogicMonitor is not just a platform; we are a true partner. Leverage our 24×7 support or utilize custom LM Professional Services engagements that cover a wide range of customer needs and onboarding goals, designed to enable faster and more successful deployments.
One platform for unified observability
Third-party research
See how LogicMonitor stacks up
See how LogicMonitor, Datadog, SolarWinds, PRTG and other top vendors stack up in this comprehensive report by G2, the world's largest B2B software review platform.