Website Monitoring
Monitor website performance from across the globe to ensure uptime and availability for internal and external sites. Improve end-user experience with on-the-spot service checks and synthetic transactions that optimize the health and performance of your website.
Website monitoring made easy
Monitor websites in the same platform as the rest of your infrastructure without setting up or maintaining separate monitoring and alerting. Have confidence that your websites are up and accessible from one or multiple external test locations, or monitor from within your network and ensure your employees can access critical internal sites.
Website synthetic monitoring includes
Site availability, graphed and monitored
Spot issues before they impact end users. Alert on the specific circumstances you care about: when content is not loading properly, the expected HTTP status code isn't being returned, or when page load time exceeds custom thresholds. LogicMonitor makes sure site availability is graphed, monitored, and alerted on in real time
Intelligent website alerting
Cut through alert noise with ease. Configure alerts or schedule downtime on a per-Service Check basis. Define alerting based on overall reachability and health from all locations, and/or from specific sites. Quickly view and filter alerts on the general Alerts Page or the Alerts Tab for each Service Check or Service Check Group. Filter by instance, alert severity, and more, and control which escalation chains receive alerts
Comprehensive website metrics
Dive deeper into website monitoring through ping and web checks that give you detailed metrics. Collected data is available for viewing from a website's Graphs and Raw Data tabs, or on a customizable dashboard as a widget. Both of these tabs track website data on a per-checkpoint basis and on an overall checkpoint basis.
Advanced synthetic transactions
Compose multi-step tests that simulate user transactions, check for specific content, and handle authentication from actual browsers all over the world. Business transactions are then correlated with underlying infrastructure, including network and website performance issues, to determine the root cause of service delivery failure.
Trusted by:
ON-DEMAND DEMO
Proactive monitoring for websites and beyond
See our platform in action with a quick on-demand demo highlighting architecture, logs, the AIOps early warning system, topology mapping, alerting, and website monitoring.
See what our customers say about us
Using LogicMonitor as a Non-MSP
We've recently started to integrate the LM Logs and Configuration monitoring into our system. This has drastically helped in reducing troubleshooting time for issues.
May 17, 2021
Best performance monitoring tool
It has both real-time and historical performance data for server CPU, memory, disk I/O, and network usages, all displayed in beautiful graphs. Very convenient for performance troubleshooting or determining whether a device is over or underused.
May 14, 2021
LogicMonitor is one of the best monitoring tool I have ever deployed.
LogicMonitor support is very good. Their response time is fast and we didn't have any issues.
Sep 10, 2020
LM Review
Well suited where an organisation wishes to have a unified view of hardware stats and software stats… single monitoring window.
Dec 30, 2020
The Lowdown on LM
[LogicMonitor is] great for keeping an eye on infrastructure at a small scale (office-wide) or large scale (planet-wide).
Dec 18, 2020
LogicMonitor will become your Ops Team process improvement tool
We are a managed services IT staff and use LogicMonitor to support our clients and our own infrastructure. We sell monitoring as a service and Logic Monitor serves a critical role in that service.
Dec 14, 2020
LogicMonitor is Time Saving Magic!
We implemented LogicMonitor to gather more information regarding our servers and appliances with far less configuration compared to previous laborious and custom solutions.
Dec 13, 2020
Second time LogicMonitor customer
LogicMonitor gives us a single pane of glass to view all of our infrastructures; from legacy hardware to bleeding-edge cloud resources. LogicMonitor also provides excellent default thresholds and alerting behavior, giving us huge gains in time for resolution compared to our previous toolset.
Dec 11, 2020
LogicMonitor is how monitoring should be.
The ability to customize reports and dashboards is key as an MSP, because we can present custom tailored dashboards to our customers on request.
Dec 10, 2020
LogicMonitor the Network Monitoring Tool You've been Searching for!
The application is integrated with our ticketing system and allows us to quickly respond to alerts. It also allows for two way communication between our ticketing system and Logic Monitor.
Dec 10, 2020
Website monitoring benefits
Rapidly deploy
LogicMonitor comes stock with best practice dashboards and alert thresholds for your website checks. Within minutes you will have the data you need to graph, alert, and optimize performance for your internal and external websites from around the world
Ping checks
Find out how your website is performing by monitoring trace route, status, maximum/minimum/average round trip tips, number of sent and received packets, and more!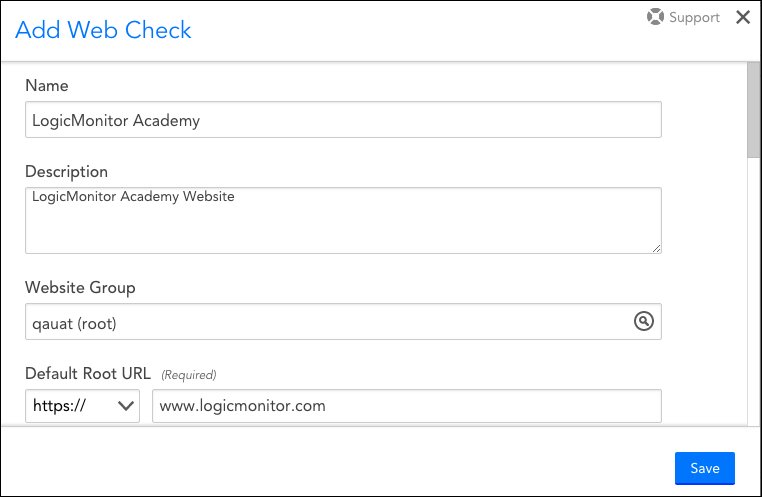 Web checks
Monitor response time, status, read time, SSL handshake time, SSL status, connect time, DNS resolve time and more!
Reduce alert noise
Put an end to alert storms with intelligent anomaly detection. Distinguish service-impacting alerts from non-service impacting alerts, and reduce how often you get woken up in the middle of the night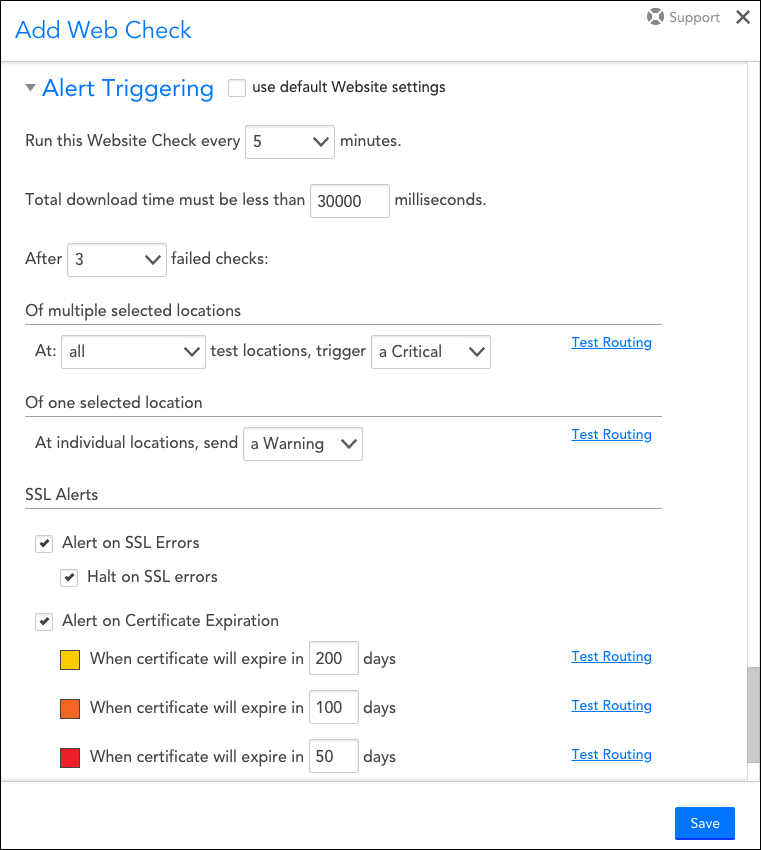 Identify performance trends
Pre-configured alert thresholds ensure that you receive meaningful alerts right from the start, and help you to proactively prevent downtime. Easily tune thresholds on a global, group, or object level.
Set scheduled downtime
Set scheduled down time (SDT) for websites to stop alerts from notifying you, while still showing records of what alerts were triggered during your downtime
FAQ
What is website monitoring?

Website monitoring monitors website accessibility and functionality as experienced by the general public via external web checks, and website accessibility and functionality as experienced by your business' internal users via ping checks.

What is synthetic monitoring?

Synthetic monitoring is an approach to website monitoring where a website (or web environment) is tested by simulating a site request, such as availability.

What are synthetics?

Synthetics are simulated checks used in synthetic monitoring, allowing users to test environments without causing strain to their systems.

Will gathering web metrics slow my site down?

Gathering web metrics from synthetic web checks and ping checks do not slow a site down

How is website data collected?

Website data is collected through synthetic transactions, where the results of a simulated test are gathered and recorded