Synthetic Website Monitoring
Monitor core website vitals from across the globe and gain visibility into uptime and availability. Improve end-user experience with on-the-spot service checks and synthetic transactions that optimize the health and performance of your websites.
Synthetic website monitoring made easy
Have confidence that your websites are up and accessible from one or multiple external test locations, or monitor from within your network and ensure your employees can access critical internal sites – all within the same platform as the rest of your cloud and infrastructure monitoring.
Website synthetic monitoring includes
Site availability, graphed and monitored
Spot issues before they impact end users.LogicMonitor makes sure site availability is graphed, monitored, and alerted on in real-time. Get alerts on the specific circumstances you care about, including:
Content load issues
HTTP status codes
Load times that exceed thresholds
Bottlenecks that impact service (DNS resolve times, read time, etc.)
Intelligent website alerting
Cut through alert noise with ease
Configure alerts or schedule downtime on a per-Service Check basis
Define alerting based on overall reachability and health from all locations, and/or from specific sites
Quickly view and filter alerts on the general Alerts Page or the Alerts Tab for each Service Check or Service Check Group
Filter by instance, alert severity, and more, and control which escalation chains receive alerts
Comprehensive website metrics
Measure key metrics to gain insight on core web vitals and improve your website performance. Dive deeper into website monitoring through ping and web checks that give you detailed metrics. Collected data is available for viewing from a website's Graphs and Raw Data tabs, or on a customizable dashboard as a widget. Both of these tabs track website data on a per-checkpoint basis and on an overall checkpoint basis.
Advanced synthetic transactions
Does your website perform when doing things that real-world users do? Multi-step business transactions are correlated with underlying infrastructure, including network and website performance issues, to determine the root cause of service delivery failure. Compose multi-step tests that:
Simulate user transactions
Check for specific content
Handle authentication
–all from actual browsers all over the world driven by robots (not humans.)
Trusted by:
ON-DEMAND DEMO
Proactive monitoring for websites and beyond
See our platform in action with a quick on-demand demo highlighting architecture, logs, the AIOps early warning system, topology mapping, alerting, and website monitoring.
See what our customers say about us
Simple Effective Event Log and Resource Monitoring/Alerting tool
LogicMonitor is used by our organization to actively monitor servers and cloud infrastructure for both events and resource utilization. Our main objective is to use the tool to detect and alert IT staff of anomalies or other potential downtime that could impact our customers and employees. LogicMonitor is currently deployed to key infrastructures such as VM hosts, domain controllers, critical servers, and Azure resources such as VMs, Frontdoor, Kubernetes, etc.
Nov 21, 2022
LogicMonitor has been a homerun!
LogicMonitor is great for organizations needing to get better visibility into their IT Operations and those needing to reduce workloads so that their IT teams can focus on more strategic projects.
Jul 01, 2022
LogicMonitor: Highly Recommended
LogicMonitor replaced the others because it provides better value for us: it is more effective, reliable and efficient at delivering functionality.
Jun 28, 2022
Using LogicMonitor as a Non-MSP
LogicMonitor's licensing is per device instead of SolarWinds per interface. This means a switch only needs one license compared to SolarWinds licensing per port on the switch. SolarWind's GUI is old and not very intuitive to new users. Setting up users in LogicMonitor is super easy and the use of roles makes managing permissions simple.
May 17, 2021
LogicMonitor is one of the best monitoring tool I have ever deployed.
LogicMonitor support is very good. Their response time is fast and we didn't have any issues.
Sep 10, 2020
The Lowdown on LM
[LogicMonitor is] great for keeping an eye on infrastructure at a small scale (office-wide) or large scale (planet-wide).
Dec 18, 2020
LogicMonitor will become your Ops Team process improvement tool
We are a managed services IT staff and use LogicMonitor to support our clients and our own infrastructure. We sell monitoring as a service and Logic Monitor serves a critical role in that service.
Dec 14, 2020
LogicMonitor is Time Saving Magic!
Hands down the best support we have received from any vendor. Same top tier experience at any time of the day whether it is a simple question or a complex issue. They listen to feedback and do their best to implement feedback on problems that are discovered. Support is always providing references and material to learn more about what you are asking in a non-condescending manner which is appreciative.
Dec 13, 2020
Second time LogicMonitor customer
LogicMonitor's onboarding process is smooth. Typically you would have an engagement with professional services to walk through the tool and have assistance onboarding select devices. The support portal has excellent documentation on adding third party environments like AWS and Azure into the platform. Additionally, the ability to setup NetScans to automatically enroll devices is welcome.
Dec 11, 2020
LogicMonitor is how monitoring should be.
There are few scenarios where LogicMonitor is not the right choice as a monitoring platform; in fact I cannot think of any where LogicMonitor was the issue.
Dec 10, 2020
Website monitoring benefits
Ping Checks
Find out how your website is performing by monitoring trace route, status, maximum/minimum/average round trip tips, number of sent and received packets, and more.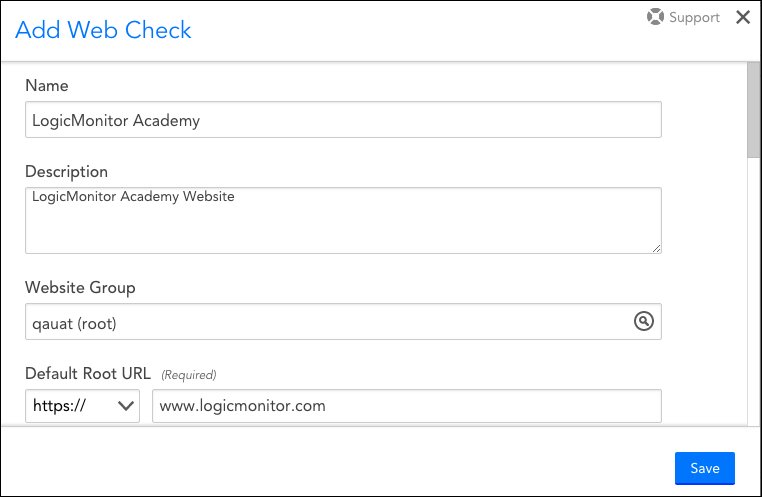 Web Checks
Monitor response time, status, read time, SSL handshake time, SSL status, connect time, DNS resolve time and more!
Deploy Rapidly
LogicMonitor comes stock with best practice dashboards and alert thresholds for your website checks. Within minutes you will have the data you need to graph, alert, and optimize performance for your internal and external websites from around the world – without installing agents on your web servers.
Reduce alert noise
Put an end to alert storms with intelligent anomaly detection. Distinguish service-impacting alerts from non-service-impacting alerts, and reduce how often you get woken up in the middle of the night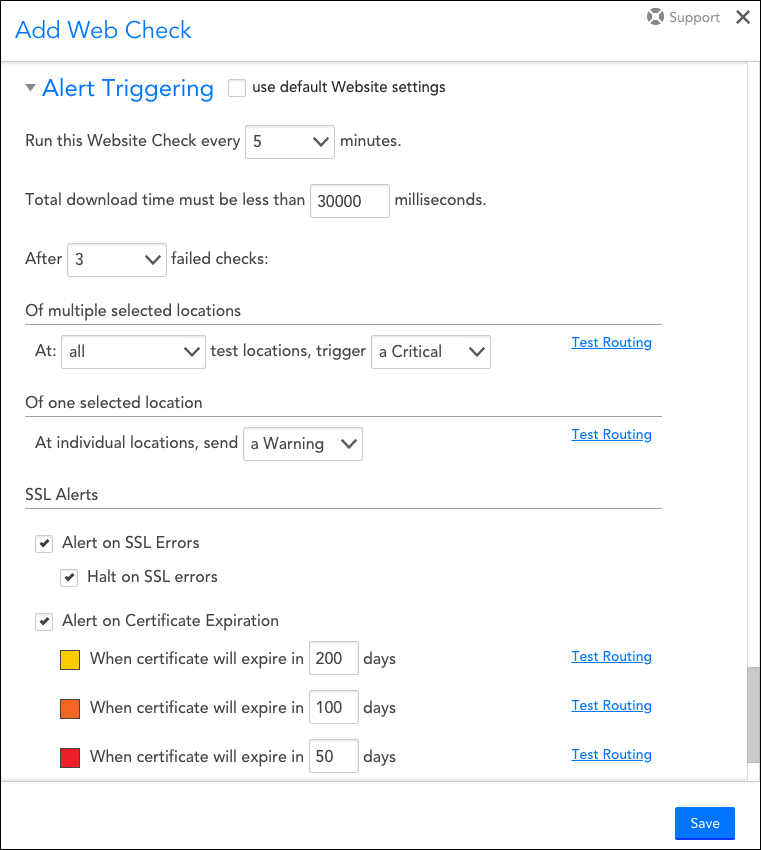 Identify performance trends
Pre-configured alert thresholds ensure that you receive meaningful alerts right from the start, and help you to proactively prevent downtime. Easily tune thresholds on a global, group, or object level.
Set scheduled downtime
Set scheduled downtime (SDT) for websites to stop alerts from notifying you, while still showing records of what alerts were triggered during your downtime
FAQ
What is website monitoring?

Website monitoring monitors website accessibility and functionality as experienced by the general public via external web checks, and website accessibility and functionality as experienced by your business' internal users via ping checks.

What is synthetic monitoring?

Synthetic monitoring is an approach to website monitoring where a website (or web environment) is tested by simulating a site request, such as availability.

What are synthetics?

Synthetics are simulated checks used in synthetic monitoring, allowing users to test environments without causing strain to their systems.

Will gathering web metrics slow my site down?

Gathering web metrics from synthetic web checks and ping checks do not slow a site down

How is website data collected?

Website data is collected through synthetic transactions, where the results of a simulated test are gathered and recorded