Infrastructure Monitoring
Experience predictive insights and intelligent troubleshooting to scale, optimize costs, and drive innovation for maximum enterprise productivity. Infrastructure monitoring is a key part of LM Envision, a unified observability platform that brings clarity to enterprise IT.
Comprehensive visibility into dynamic IT environments
LM Envision's SaaS-based infrastructure monitoring provides comprehensive visibility into infrastructure topology, availability, and performance, with correlation across dynamic IT infrastructure devices and resources. With 2000+ monitoring integrations built-in, you can eliminate tool sprawl and context switching with a unified view of infrastructure health and performance. With coverage ranging from data centers to public/private clouds, LM Envision delivers an extensible infrastructure monitoring solution that empowers ITOps and DevOps teams to achieve digital transformation goals faster, from a single platform.
LM Infrastructure, a key part of LM Envision
Key insights to manage and maintain IT environments
Agentless collectors automatically discover new devices and configuration changes for monitoring, alerting, and graphing
Group multiple resources into a single service to view aggregate SLIs across all instances to correlate metrics and data points, via LM™ Service Insight
Netscan automatically detects environment changes in the network to streamline the process of adding devices
Achieve optimal availability and performance
Intelligent alerting with dynamic thresholds identify anomalies and generate alerts to anticipate and immediately spot problems
Receive advanced insights with forecasting into resource utilization and conditions to detect warning signs affecting operational health
Simplify the process of receiving and updating infrastructure performance alerts with 2,000+ OOTB integrations for workflow and ticketing systems
Auto-discovery and change detection for enterprise extensibility
Pre-built dashboards offer complete insight into performance data that match each business need to provide enterprise extensibility
Visually represent updated relationships among devices to streamline troubleshooting with dynamic topology mapping
Role Based Access Control (RBAC) creates viewing permissions for dashboards, resources, or websites to minimize accidental or malicious configurations changes
Enterprise SaaS-based unified observability platform
Automatically correlate data to provide answers on how to model, avoid issues, and optimize your IT environment
Dynamic alert thresholds remove noise; workflows and escalation chains are tailored to your environment
Leverage prebuilt workflow and monitoring integrations and templates for 2,000+ technologies
Support development teams with ecosystem and monitoring integrations to maintain workflows measured around application performance.
Eliminate visibility gaps with topology mapping, anomaly detection, topology mapping, anomaly detection, and more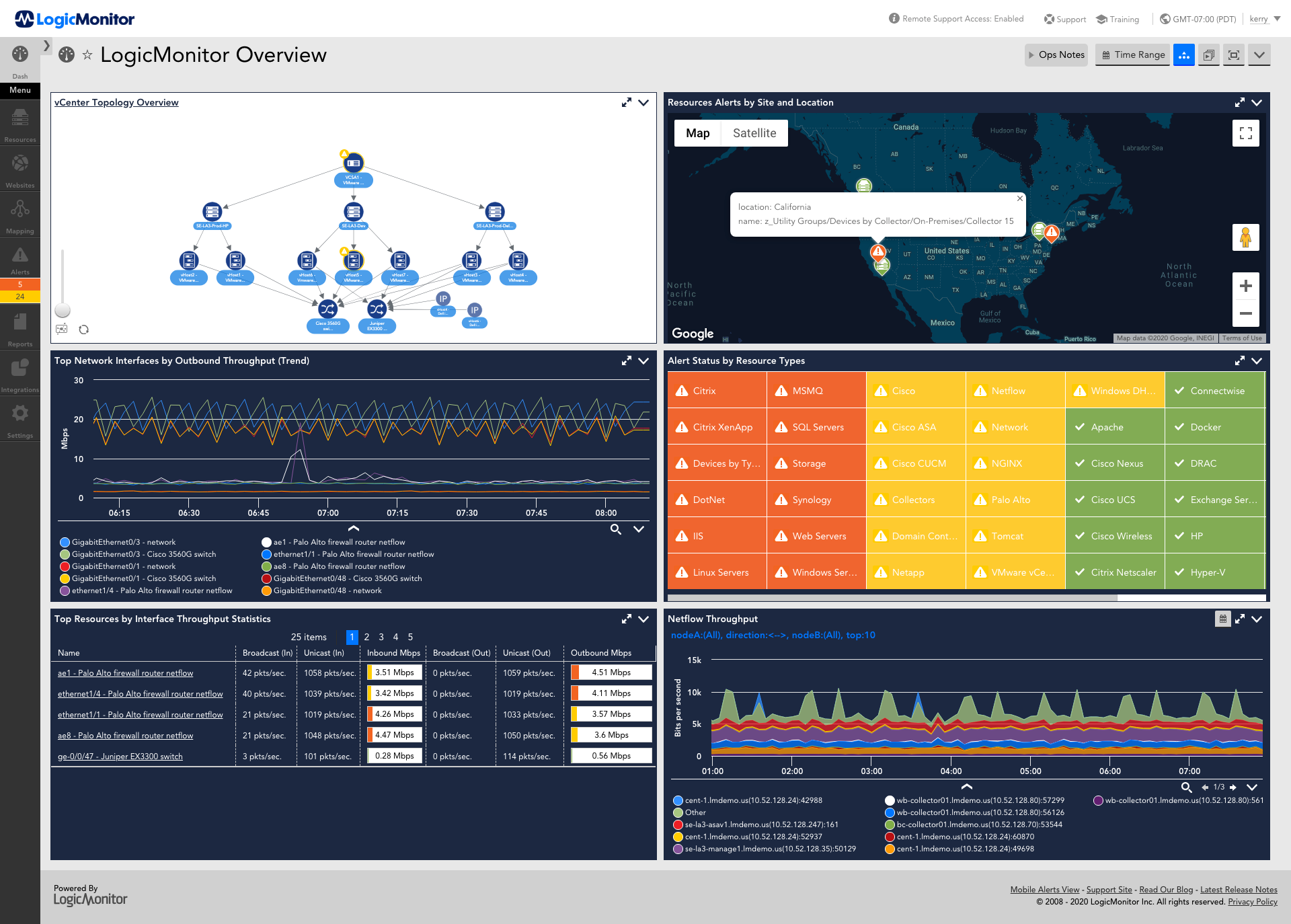 Our customers say it best
Simple Effective Event Log and Resource Monitoring/Alerting tool
LogicMonitor is used by our organization to actively monitor servers and cloud infrastructure for both events and resource utilization. Our main objective is to use the tool to detect and alert IT staff of anomalies or other potential downtime that could impact our customers and employees. LogicMonitor is currently deployed to key infrastructures such as VM hosts, domain controllers, critical servers, and Azure resources such as VMs, Frontdoor, Kubernetes, etc.
Nov 21, 2022
LogicMonitor has been a homerun!
LogicMonitor is great for organizations needing to get better visibility into their IT Operations and those needing to reduce workloads so that their IT teams can focus on more strategic projects.
Jul 01, 2022
LogicMonitor: Highly Recommended
LogicMonitor replaced the others because it provides better value for us: it is more effective, reliable and efficient at delivering functionality.
Jun 28, 2022
Using LogicMonitor as a Non-MSP
LogicMonitor's licensing is per device instead of SolarWinds per interface. This means a switch only needs one license compared to SolarWinds licensing per port on the switch. SolarWind's GUI is old and not very intuitive to new users. Setting up users in LogicMonitor is super easy and the use of roles makes managing permissions simple.
May 17, 2021
LogicMonitor is one of the best monitoring tool I have ever deployed.
LogicMonitor support is very good. Their response time is fast and we didn't have any issues.
Sep 10, 2020
The Lowdown on LM
[LogicMonitor is] great for keeping an eye on infrastructure at a small scale (office-wide) or large scale (planet-wide).
Dec 18, 2020
LogicMonitor will become your Ops Team process improvement tool
We are a managed services IT staff and use LogicMonitor to support our clients and our own infrastructure. We sell monitoring as a service and Logic Monitor serves a critical role in that service.
Dec 14, 2020
LogicMonitor is Time Saving Magic!
Hands down the best support we have received from any vendor. Same top tier experience at any time of the day whether it is a simple question or a complex issue. They listen to feedback and do their best to implement feedback on problems that are discovered. Support is always providing references and material to learn more about what you are asking in a non-condescending manner which is appreciative.
Dec 13, 2020
Second time LogicMonitor customer
LogicMonitor's onboarding process is smooth. Typically you would have an engagement with professional services to walk through the tool and have assistance onboarding select devices. The support portal has excellent documentation on adding third party environments like AWS and Azure into the platform. Additionally, the ability to setup NetScans to automatically enroll devices is welcome.
Dec 11, 2020
LogicMonitor is how monitoring should be.
There are few scenarios where LogicMonitor is not the right choice as a monitoring platform; in fact I cannot think of any where LogicMonitor was the issue.
Dec 10, 2020
Infrastructure monitoring benefits
Correlate IT data across infrastructure devices and resources
To make informed business decisions
LM Infrastructure monitoring provides crucial context by automatically correlating metrics and data points from thousands of IT devices and resources. Individual devices are grouped together into instances for a comprehensive view into health and performance. 
LM's SaaS-based, agentless approach and library of 2,000+ modules support any ecosystem integrations, and adaptive topology mapping detects environment changes as organizations scale. Ops teams are empowered with key insights to manage and maintain IT environments seamlessly. 
Gain predictive insights into infrastructure and network issues
To reduce length of downtime episodes
LM Infrastructure, powered by LM Envision, analyzes billions of metrics and data points from thousands of IT devices and resources to proactively detect potential infrastructure deficiencies. AI-powered anomaly detection paired with dynamic thresholds identifies anomalies that generate intelligent alerting with the appropriate severity. 
Escalation chains ensure the right teams or third-party applications are notified, and out-of-the-box integrations with ticketing systems promote swift resolution, significantly reducing the cost of IT operations. 
Modernize infrastructure monitoring
To enable key insights and drive innovation
LogicMonitor's agentless and vendor-agnostic infrastructure monitoring works for hybrid environments across enterprises of any size. A growing library of 2,000+ easy to add or modify modules eliminates the burden of integration complications and allows for improved allocation of resources and time-consuming monitoring activities. 
Auto-discovery of new devices and the ability to detect changes to any environment with preset templates to capture data for dashboards within a single solution elevates Ops teams away from operational challenges to focus their efforts on strategic innovations.
Get more out of LogicMonitor
Analyst Report
Gartner® Market Guide for IT Infrastructure Monitoring Tools
Interested in the current state of infrastructure monitoring? Download the Gartner Market Guide for IT Infrastructure Monitoring Tools.
Trusted by over 2000 companies


Infrastructure monitoring frequently asked questions
What is infrastructure monitoring?

Infrastructure monitoring is the real-time collection and analysis of the devices within an IT infrastructure. An IT infrastructure can contain on-premises devices, such as servers and network tools, cloud solutions, such as public and private cloud, as well as the entire IT tech stack needed for a company.

What is infrastructure management?

Infrastructure management is the ability to perform tasks within an IT infrastructure, based on it's analyzed health.

Infrastructure monitoring vs infrastructure management

Infrastructure monitoring differs from infrastructure management in that it includes both the passive monitoring, as well as the traditional management within an IT infrastructure.

What does ITIM mean?

ITIM stands for IT infrastructure monitoring.

Is LogicMonitor agent-based or agentless?

LogicMonitor uses an agentless collector to gather data for connected devices. No physical equipment necessary!

How is infrastructure data collected?

Infrastructure data is gathered via Collectors, which are small nodes used to grab the definied metrics within a device.