Google Cloud Platform Monitoring
LogicMonitor automatically discovers and monitors all your GCP services like GCE, GAE, and CloudSQL in real time. Our comprehensive coverage provides GCP metrics alongside any network, server, or container service for complete visibility into health and performance, whether fully deployed or just getting started. Scale with ease with LogicMonitor's agentless architecture that's designed for large organizations adopting hybrid and multi-cloud environments.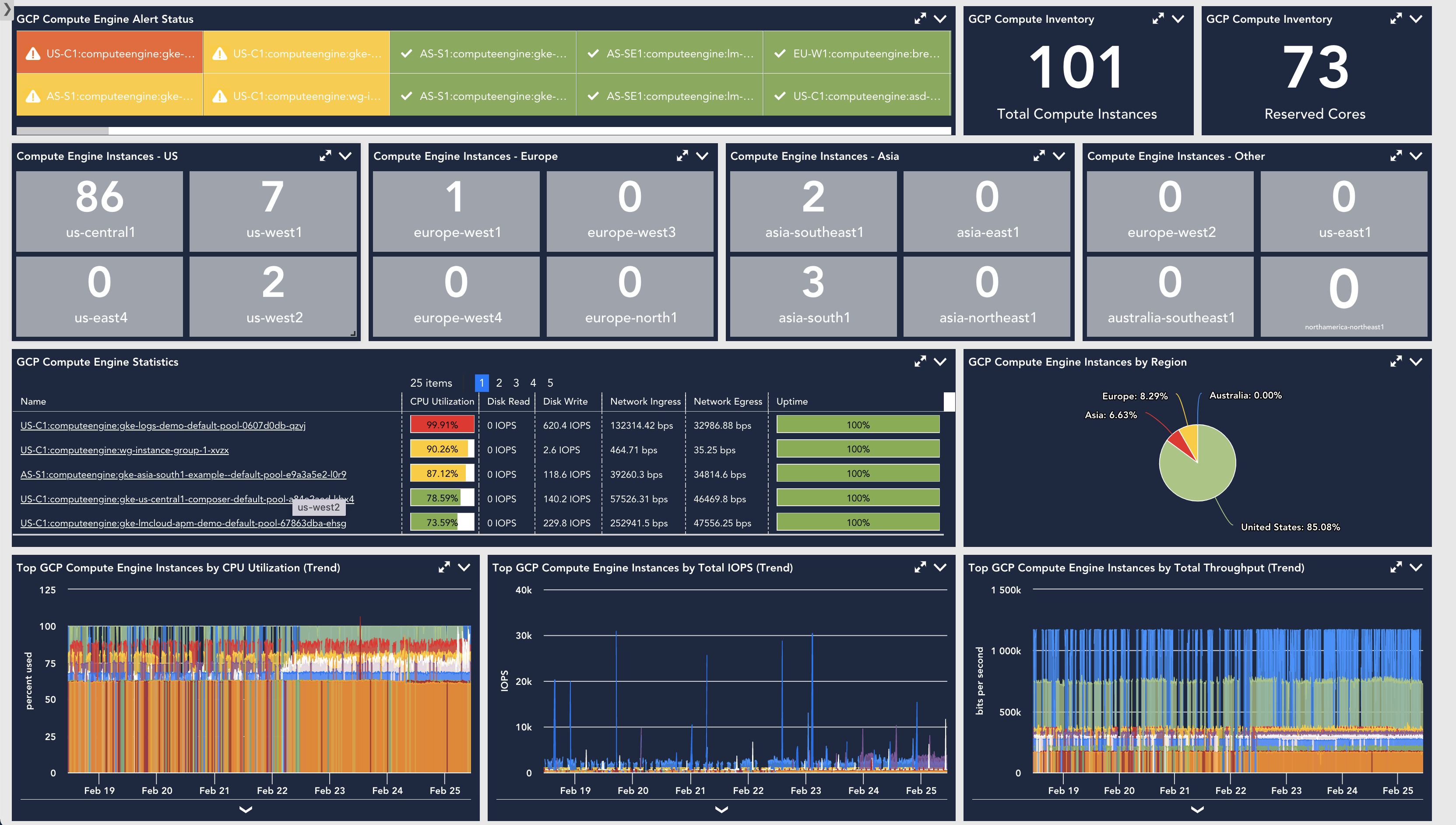 A better way to collaborate, communicate, and automate
Easy deployment, even easier configuration
LogicMonitor's GCP Monitoring seamlessly integrates with existing dashboards, alerting, reporting, and forecasting functionalities so that you can visualize the data for your entire hybrid infrastructure. With LogicMonitor's lightweight, agentless collector, you can create dashboards, alert thresholds, and forecasting – all within minutes of deployment. Plus, as your GCP environment changes, LogicMonitor rapidly recognizes new or changing resources without any manual configuration.
Monitor your entire environment – past, present, and future – in one place
LogicMonitor allows you to comprehensively monitor your cloud services alongside your existing monitored infrastructure, giving you an end-to-end view of your entire hybrid infrastructure performance. Get comprehensive visibility into GCP infrastructure health and performance, as well as your operating systems, networks, servers, and applications – all in a single platform that would be otherwise challenging to obtain.
Put actionable data into the right hands at the right time
Whether it is file storage, messaging and queueing, or data storage – real-time visibility matters. LogicMonitor correlates and presents your data needs in GCP including Filestore, Cloud Storage, Redis, Pub/Sub, SQL, and BigTable, so users know where their data is going. 
Your GCP Team's new best friend
When there are GCP issues that may impact your services, you need to be the first to know. LogicMonitor monitors custom metrics for full visibility into GCP, in addition to monitoring Stackdriver metrics for your GCP environment. This allows LogicMonitor to report on granular resource performance, GCP availability (whether due to GCP-imposed service limits or scheduled maintenance), and critical application or OS level metrics – right out of the box.
Make sure your remote workers never miss a beat
Our agentless platform offers out-of-the-box integrations and dashboard widgets to provide visibility into essential work-from-home solutions. Our intelligent monitoring helps ensure that your remote workforce is driving business performance and maintaining your customer experience. LogicMonitor makes it easy to monitor Stackdriver metrics for GCP VPN Gateways per VPN tunnel.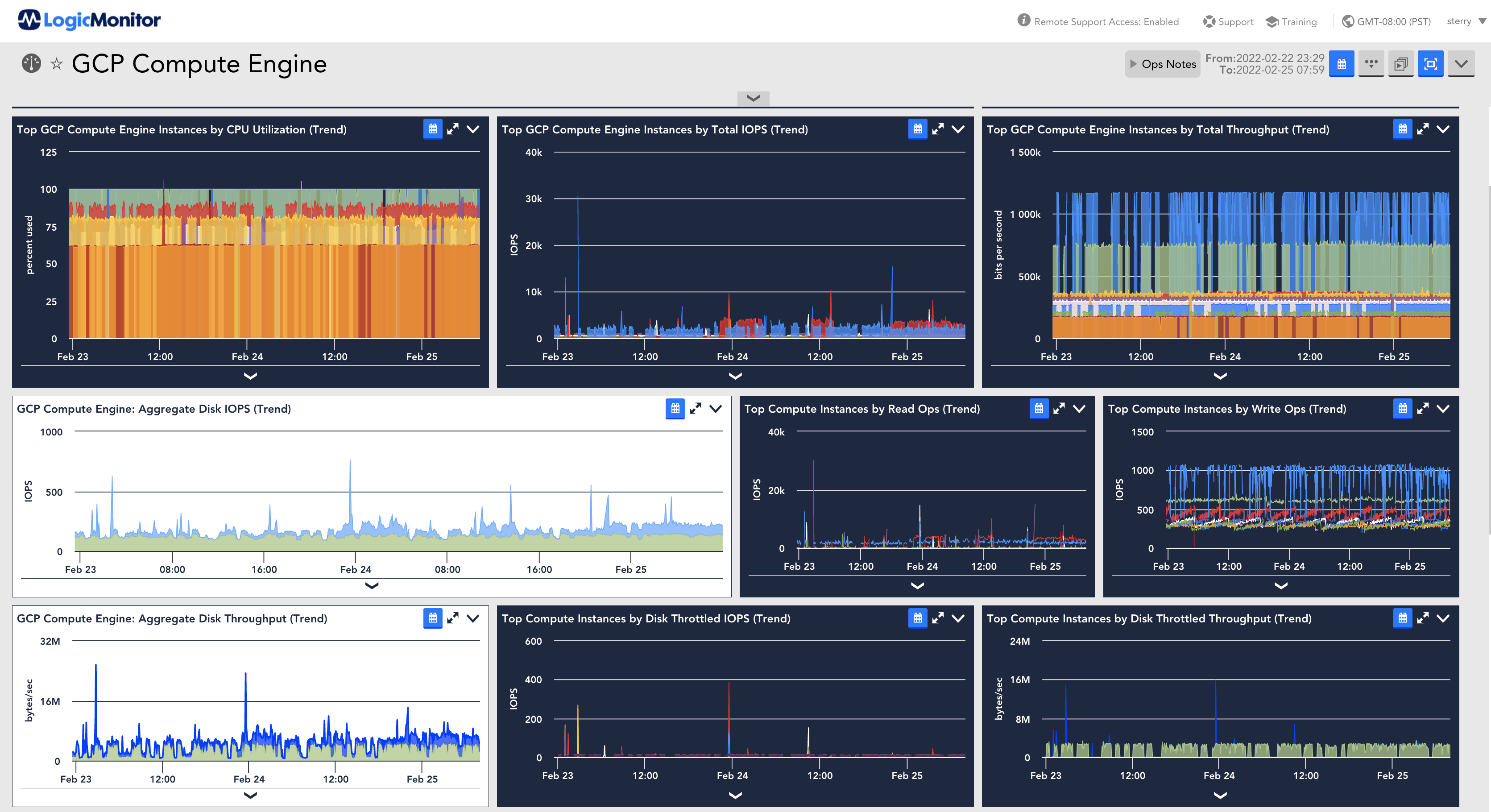 If you like GCP's Compute Engine, we can monitor that too
LogicMonitor provides monitoring for Compute Engine via GCP StackDriver API. For more advanced out-of-the-box metrics, adding a local Collector automatically augments your understanding of the performance of what is running on each of your Compute Engine instances.
What is GCP monitoring without Kubernetes?
To proactively prevent downtime and maximize application performance, you need data on your GKE. With LogicMonitor's Kubernetes Monitoring, you can get GKE insights along with key insights into the rest of your hybrid infrastructure.