Container Monitoring
Lightning-fast monitoring for even the most ephemeral resources. Get visibility into your containerized applications that live alongside your hybrid IT infrastructure in a single monitoring platform. LogicMonitor automatically detects and monitors containers while they exist, understands when they disappear, and retains performance data about the nature of the container.
Rapidly deploy dynamic container monitoring
Save time without worrying if your monitoring system can keep up. LogicMonitor automatically discovers containers, microservices, and underlying resources. Identify and solve issues quickly and with precision. LogicMonitor's container monitoring provides insight into performance and health of your applications, the containers they're running in, and the underlying resources that support them.
Total container monitoring
Hybrid monitoring to correlate containers with on-premise infrastructure
As businesses modernize and shift workloads to the cloud (or multiple clouds), container use increases. LogicMonitor offers a single platform that meets you where you are on your modernization journey and grows with you. Get insight into the performance of the applications running in containers, as well as the health of the underlying container resources and orchestrating components. LogicMonitor presents these insights alongside your organization's existing monitored hybrid infrastructure in a single, unified monitoring platform.
Monitor and track dynamic services and ephemeral resources
Containers and pods are ephemeral resources. It's difficult to monitor components that may appear (and disappear) quickly and unpredictably. To accurately track ephemeral resources, LogicMonitor employs event-based discovery, where cluster resources are automatically added and removed from monitoring based on Kubernetes events or changes in microservices.
Focus on the health and performance of the overall service, regardless of changes in underlying resources, by dynamically grouping together containers and other ephemeral resources supporting common microservices.
Event-based Kubernetes monitoring: a new level of clarity
Event-based Kubernetes monitoring eliminates the most common challenges of monitoring ephemeral resources by:
Automatically adding and removing cluster resources including nodes, pods, and services Eliminating the need to deploy an agent on every node Offering comprehensive performance and health metrics at both the cluster and application levels
Providing insight on underutilized resources to optimize CPU,memory, and more
Storing data for up to two years
Identify performance trends
Maintaining data continuity with the complexity of modern applications is challenging LogicMonitor uses data across resources supporting a common application to provide long-term views into how that application performs over time. Key performance indicators are aggregated across these grouped resources to provide monitoring for the health and performance of the service as a whole.
Constantly changing containers can trigger needless alert storms that distract and diffuse your teams from seeing what matters. LogicMonitor offers intelligent contextual alerting with LM Service Insight so you can solve problems quickly.LogicMonitor can proactively alert you when a container isn't performing optimally, through pre-built or dynamic thresholds.
Keep your containerized applications healthy
With containers, organizations need insight into the performance of their applications that are running in containers, as well as the health of the underlying container resources and orchestrating components. To get the most out of their deployment, LogicMonitor presents these insights alongside your organization's existing monitored hybrid infrastructure in a single, unified monitoring platform.
See our reviews
Simple Effective Event Log and Resource Monitoring/Alerting tool
LogicMonitor is used by our organization to actively monitor servers and cloud infrastructure for both events and resource utilization. Our main objective is to use the tool to detect and alert IT staff of anomalies or other potential downtime that could impact our customers and employees. LogicMonitor is currently deployed to key infrastructures such as VM hosts, domain controllers, critical servers, and Azure resources such as VMs, Frontdoor, Kubernetes, etc.
Nov 21, 2022
LogicMonitor has been a homerun!
LogicMonitor is great for organizations needing to get better visibility into their IT Operations and those needing to reduce workloads so that their IT teams can focus on more strategic projects.
Jul 01, 2022
LogicMonitor: Highly Recommended
LogicMonitor replaced the others because it provides better value for us: it is more effective, reliable and efficient at delivering functionality.
Jun 28, 2022
Using LogicMonitor as a Non-MSP
LogicMonitor's licensing is per device instead of SolarWinds per interface. This means a switch only needs one license compared to SolarWinds licensing per port on the switch. SolarWind's GUI is old and not very intuitive to new users. Setting up users in LogicMonitor is super easy and the use of roles makes managing permissions simple.
May 17, 2021
LogicMonitor is one of the best monitoring tool I have ever deployed.
LogicMonitor support is very good. Their response time is fast and we didn't have any issues.
Sep 10, 2020
The Lowdown on LM
[LogicMonitor is] great for keeping an eye on infrastructure at a small scale (office-wide) or large scale (planet-wide).
Dec 18, 2020
LogicMonitor will become your Ops Team process improvement tool
We are a managed services IT staff and use LogicMonitor to support our clients and our own infrastructure. We sell monitoring as a service and Logic Monitor serves a critical role in that service.
Dec 14, 2020
LogicMonitor is Time Saving Magic!
Hands down the best support we have received from any vendor. Same top tier experience at any time of the day whether it is a simple question or a complex issue. They listen to feedback and do their best to implement feedback on problems that are discovered. Support is always providing references and material to learn more about what you are asking in a non-condescending manner which is appreciative.
Dec 13, 2020
Second time LogicMonitor customer
LogicMonitor's onboarding process is smooth. Typically you would have an engagement with professional services to walk through the tool and have assistance onboarding select devices. The support portal has excellent documentation on adding third party environments like AWS and Azure into the platform. Additionally, the ability to setup NetScans to automatically enroll devices is welcome.
Dec 11, 2020
LogicMonitor is how monitoring should be.
There are few scenarios where LogicMonitor is not the right choice as a monitoring platform; in fact I cannot think of any where LogicMonitor was the issue.
Dec 10, 2020
LogicMonitor makes container monitoring easy
Benefits of monitoring your containers with LogicMonitor include:
Automated discovery
Frequent and recurring discovery attempts ensure that your monitoring is always up to date. Metadata is automatically populated during discovery, so you have the contextual information you need when viewing and managing monitored resources.
Application Performance Health
Get long-term views into how a group of resources supporting a common application are performing and correlate performance trends with events.
Downtime prevention
Pre-configured alert thresholds ensure that you receive meaningful alerts right from the start, and help you to proactively prevent downtime.
Dynamic grouping
Dynamic grouping for resources supporting a common service makes it simpler to manage and schedule downtime for just those resources.
Service health
Out of the box dashboards provide deeper insight and will help you identify how you can optimize your cluster.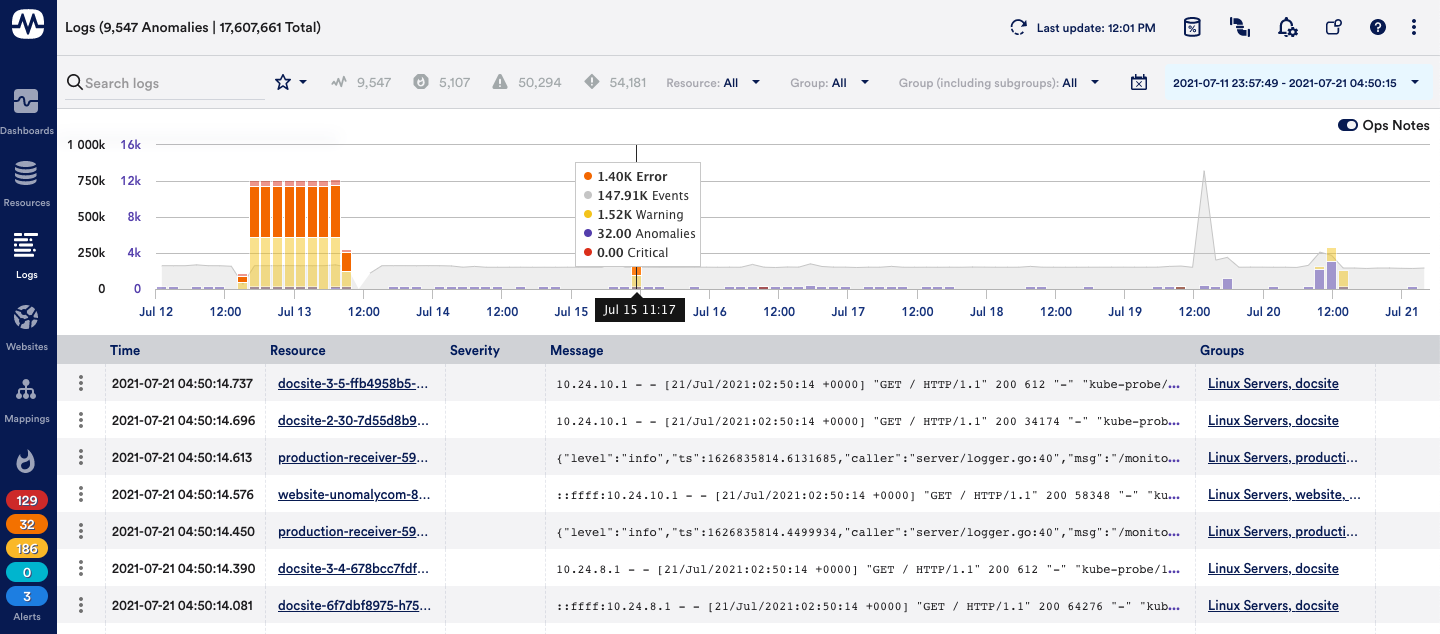 Data retention
Identify trends and forecast utilization over time. LogicMonitor tracks, monitors, and alerts on containers and microservices, and retains data for up to two years.
We have integrated LM into our everyday work. The app is the first thing we look at in the morning, all our team members keep at least one of the customizable dashboards on their desktops at all times.

Sean F., Infrastructure Manager CDK Global
Microservice and Container Monitoring FAQs
What are microservices

Microservices are an architectural approach to development that is composed of small, individual services that can be built and work on their own, but can be added together for faster development. Microservices are autonomous, allowing each service to work functionally on it's own.

What are containers

Containers are bundled packages of software that contain all of the necessary elements to function. A container can house one microservice and the libraries and tools needed for it to function, as well as house multiple microservices together for an entire application to run.

What are ephemeral containers?

Ephemeral containers a kind of Kubernetes container that temporarily runs in a pod, and can spin up as necessary, which are used primarily for troubleshooting workloads.