Last week, the Executive Leadership team and I hosted the 2021 Revenue Kickoff event. This annual event is set to highlight the efforts and accomplishments of the entire go-to-market organization and is typically held in Austin, Texas, where folks from our global offices come together to celebrate face to face. This year, we were able to connect virtually – in the comfort of our homes. We took a look back at how we overcame this not-so-normal year and aligned on what is to come in 2021.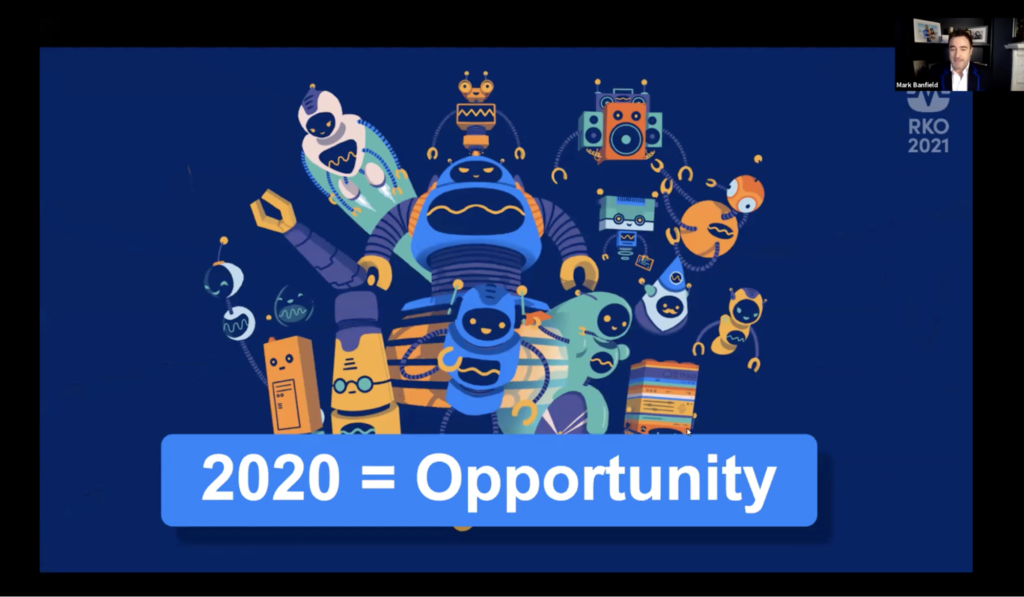 First, we took a look back at 2020 – the year of opportunity for our sales and marketing organization:
Added hundreds of new logos and customers
Named a Strong Performer in "The Forrester Wave™: Artificial Intelligence For IT Operations, Q4 2020."
Launched brand new product line: LM Logs
Appointed President Christina Kosmowski; who is focused on elevating and scaling LM as we continue to deliver a valuable, world-class IT observability platform
Day One: Our Mission in 2021 – Observability
The theme for this year's Revenue Kickoff event was Observability, which is our 2021 product vision. Tej Redkar, Chief Product and Technology Officer at LogicMonitor, highlighted that two years ago the goal was set for LogicMonitor to become the most comprehensive, extensible, and intelligent monitoring and observability platform in the world – a goal in which we can say has been achieved, today.
LogicMonitor is a goal-oriented organization and we will not stop there. The new vision is to win the hearts and minds of ITOps and DevOps teams by creating valuable technical and business insights to deliver end-to-end observability across applications, networks, and infrastructure. How will we do this and why does it matter to customers? Ranjan Goel, VP of Products, outlined our 2021 customer value proposition:
Digitize infrastructure monitoring
100% automated log analysis
Cloud application insights and troubleshooting
Day Two: Fireside Chat With Christina Kosmowski and Sales Training
Our 2021 Revenue Kickoff event also served as new President, Christina Kosmowski's first official event with the company. We listened as Christiana revealed her passion for a customer-centric work culture and how she will lead the go-to-market organization in her vision to propel LogicMonitor's Global Scale and Technical Innovation by saying yes. Yes to being open, yes to being agile, and yes to being innovative. Tim Koubek, Senior Vice President of Sales, along with other sales leaders spent the rest of the afternoon coaching how we are going to make that vision come to fruition.
Day Three: Customer Panel and RKO Awards Ceremony
On day three, we heard from our customer panel who have been incredible LogicMonitor champions by guiding us, working with us, and who have made LogicMonitor a critical component of their day-to-day business operations. They were able to share their experiences and highlight the collaborative partnerships that have been created with LogicMonitor.
We also celebrated the RKO Awards Ceremony. It was not in the ballroom at the Fairmont Austin like it usually is, but that didn't mean we couldn't dress up and celebrate in style. The leadership teams (wearing full Black Tie) took this time to celebrate the success from 2020 and recognized outstanding performances by sales representatives and President's Club winners.
All in all, 2021 has already started with huge momentum. Across the company, employees are feeling the energy and excitement – LogicMonitor has major tailwinds that are going to make 2021 a transformative year and the greatest in LM's history. LogicMonitor 2021 Revenue Kickoff put this into perspective and exposed how we are going to continue to take this rocketship journey up a few levels as a unified observability platform.