LogicMonitor is the leading provider of infrastructure performance monitoring, offering granular insight and data collection across your entire IT stack. This includes on-premises hardware, microservices, and the Cloud. However, in a constantly evolving industry with increasing demands, your monitoring tool needs to be able to cover a broad array of technologies and integrations. LogicMonitor solves this with the LM Exchange.
The LM Exchange is a central repository for LogicMonitor's growing collection of technology integrations. These technology integrations, or LogicModules, are templates and instructions that tell the system what data to collect, how to collect it, how to show it, and how to alert on it. We currently have over 2,000 available out-of-the-box.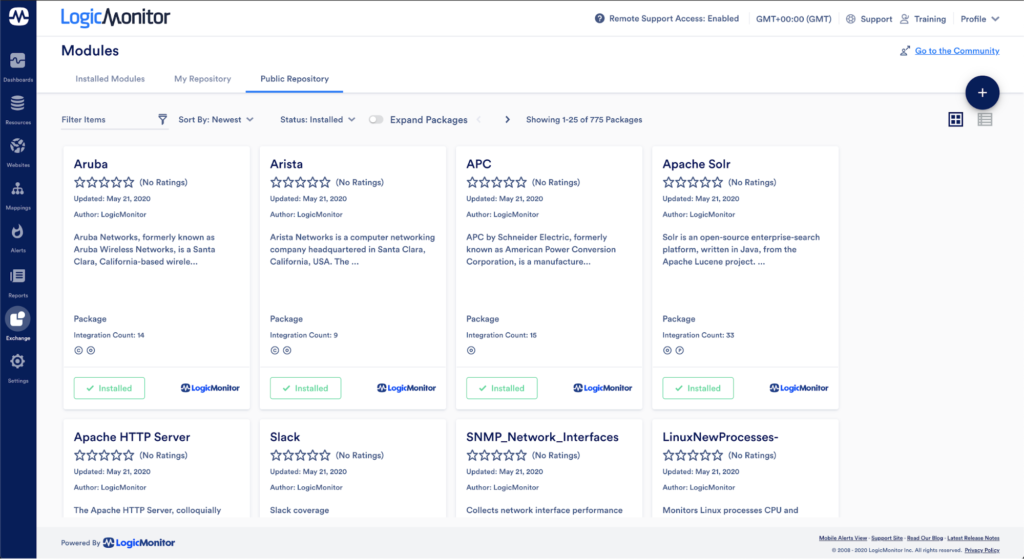 3 Key Features Offered in the LM Exchange
Packages
Previously, users were forced to look at each module type in isolation. PropertySources were managed and updated independently from DataSources. If a DataSource had a dependency on a PropertySource, it wasn't obvious without reading the documentation. With packages, users can focus on the technology they want to monitor, and LogicMonitor provides everything you need in the package. This eliminates the need of going to each LogicModule type to get the latest core updates.
Sharing
With the LM Exchange, LogicMonitor is putting sharing front and center and allowing users to search for community-sourced modules in the product.
Anything available in the Exchange will have gone through LogicMonitor's Security Review process to ensure it's safe for your collector to run. We're also introducing a new tier, LM-Endorsed, which will apply to a select group of community submitted modules. These have the added benefit of going through a stricter content review based on the LogicModule Style Guidelines, and will also get best-effort support from LogicMonitor.
If you've published your own set of related LogicModules, you too can package them and publish them to the Exchange to share with other users. Users will then be able to access and rate publicly available modules.
Safe LogicModule Merge (SLM)
The process for updating LogicModules has also been improved. We are thrilled to announce that LogicMonitor will be shipping the first version of the LM Exchange with our new Safe LogicModule Merge utility (SLM). This new update procedure will help users cut out some of the extra steps previously required when updating modules. With a few clicks, you can preserve your customizations on core LogicModules. You'll also be able to see the final result before you import it, so no more unfortunate surprises from blind updates.
At LogicMonitor, we are in the business of continually making our product easier to use and encouraging innovation across teams and our customers – LM Exchange is just one example of this. This highly anticipated feature is a major milestone for LogicMonitor, with the idea born in 2015 and spanning multiple areas of the business including Product, Development, Monitoring Engineering, TechOps, Marketing, and Documentation. A true example of our #oneteam company pillar. And as a recovering Module Engineer, this particular feature really makes me smile. I haven't been this excited about anything since I unwrapped an N64 on Christmas of '96. Seriously.
Now, go publish or update something, and stay tuned, because there's more LM Exchange awesomeness coming soon! If you're interested in learning more or want to see LM Exchange in action reach out to your Customer Success Manager or sign up for a free trial.