Go Beyond RMM. RMM + IPM for Next-Gen MSPs
LogicMonitor makes it possible for MSPs to move beyond break-fix services and offer enterprise-level solutions that match the growing needs of their customers. Partnering with LogicMonitor enables you to harness the speed and flexibility of cloud-based monitoring without the need for expensive hardware or armies of technical resources. Instead, supercharge your managed services offering with AIOps that allows you to predict and prevent outages before they happen.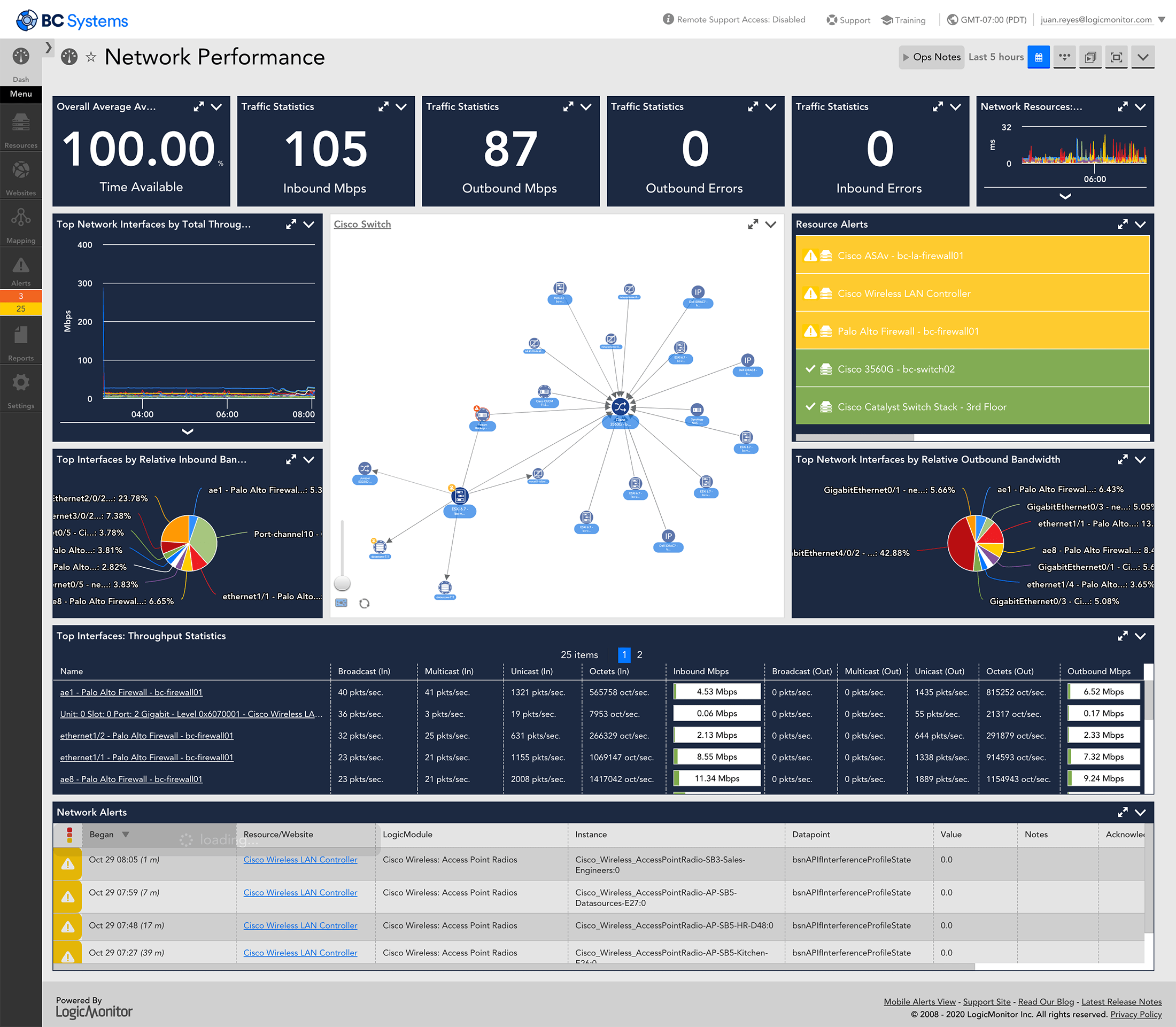 Grow your Monitoring Services
Why are leading MSPs adopting LogicMonitor when they already have an RMM tool? While it's important to apply patches and manage endpoints, next-gen service providers need to maintain a competitive edge in an IT landscape undergoing constant change. Leverage the breadth of coverage and flexibility LogicMonitor provides to boost revenue, keep costs down, and stay ready for what's next.
How LogicMonitor helps MSPs drive more revenue:
Enhance visibility: Get granular metrics for thousands of technologies RMM tools aren't designed to monitor. Achieve observability across all devices and customer environments with coverage for every data center, on-prem infrastructure, and cloud environment.
Onboard new clients faster: Rapidly onboard new clients with cloud-based monitoring that scales up and down as you need it. No new hardware required.
Automate everything: Increase service reliability, meet SLAs, and improve how you manage customers' critical systems with built-in integrations for ServiceNow ITSM, ConnectWise Manage, Datto Autotask, and more.
Increase revenue and ARR: With dedicated customer success teams and comprehensive partner enablement, LogicMonitor MSPs are growing at a 30% CAGR, compared to an industry standard of 11%.
Trusted by over 650 global MSPs
We have consolidated over eight monitoring tools and point solutions into LogicMonitor's single interface, which drives greater visibility, consolidates metrics, and reduces operating costs.

SCOTT MAYERS SR. VP OF CLOUD AND MANAGED SOLUTIONS, ATSG
Go from reactive to predictive
Instead of notifying customers when something breaks, leverage the power of AIOps to forecast future events (like running out of disk space, drive degradation, and resource utilization) and prevent downtime before it occurs. As a result, MSPs that utilize LogicMonitor can reduce their number of tickets, slash MTTR, and provide predictive services that boost customer satisfaction and retention.
Gain efficiency & increase profitability
Comprehensive monitoring helps Service Providers proactively manage IT environments by reducing overall downtime and improving IT performance. In addition, expanded coverage for cloud services positions your MSP as a true digital transformation partner, increasing customer loyalty, adding value, and creating a healthier bottom line.
Grow your value as a strategic partner
While some monitoring vendors focus solely on providing point solutions, LogicMonitor works as a dedicated growth partner to enable your long-term success in the managed services industry. Move beyond RMM into value-added services that create customer stickiness and prepare you for the future of cloud-based initiatives and strategies.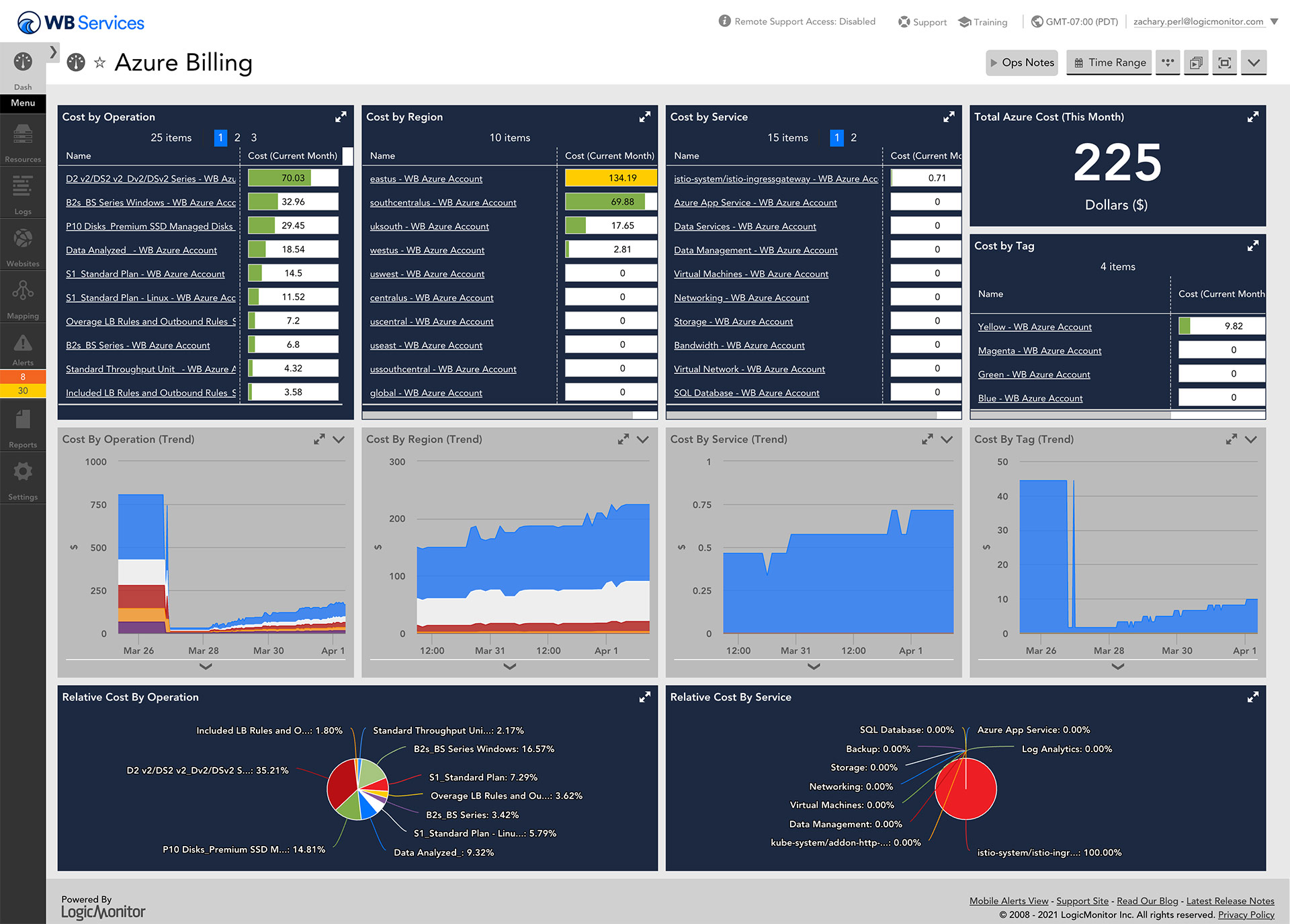 Don't hear it from us, hear it from our MSPs
Using LogicMonitor as a Non-MSP
We've recently started to integrate the LM Logs and Configuration monitoring into our system. This has drastically helped in reducing troubleshooting time for issues.
May 17, 2021
Best performance monitoring tool
It has both real-time and historical performance data for server CPU, memory, disk I/O, and network usages, all displayed in beautiful graphs. Very convenient for performance troubleshooting or determining whether a device is over or underused.
May 14, 2021
LogicMonitor is one of the best monitoring tool I have ever deployed.
LogicMonitor support is very good. Their response time is fast and we didn't have any issues.
Sep 10, 2020
LM Review
Well suited where an organisation wishes to have a unified view of hardware stats and software stats… single monitoring window.
Dec 30, 2020
The Lowdown on LM
[LogicMonitor is] great for keeping an eye on infrastructure at a small scale (office-wide) or large scale (planet-wide).
Dec 18, 2020
LogicMonitor will become your Ops Team process improvement tool
We are a managed services IT staff and use LogicMonitor to support our clients and our own infrastructure. We sell monitoring as a service and Logic Monitor serves a critical role in that service.
Dec 14, 2020
LogicMonitor is Time Saving Magic!
We implemented LogicMonitor to gather more information regarding our servers and appliances with far less configuration compared to previous laborious and custom solutions.
Dec 13, 2020
Second time LogicMonitor customer
LogicMonitor gives us a single pane of glass to view all of our infrastructures; from legacy hardware to bleeding-edge cloud resources. LogicMonitor also provides excellent default thresholds and alerting behavior, giving us huge gains in time for resolution compared to our previous toolset.
Dec 11, 2020
LogicMonitor is how monitoring should be.
The ability to customize reports and dashboards is key as an MSP, because we can present custom tailored dashboards to our customers on request.
Dec 10, 2020
LogicMonitor the Network Monitoring Tool You've been Searching for!
The application is integrated with our ticketing system and allows us to quickly respond to alerts. It also allows for two way communication between our ticketing system and Logic Monitor.
Dec 10, 2020
Not just a platform. A true partner.
Our story starts with our customers. Rated #1 in support on TrustRadius and #1 in Customer Satisfaction on G2, we provide 24×7 live support with real technical engineers in your region. These engineers work as an extension of your team, enabling rapid results and business-driven outcomes for your team. Our 24×7 support, dedicated customer success teams, and advanced features are why LogicMonitor is consistently voted #1 in customer satisfaction by your peers.
2,000+ Turn Key Integrations, including:
E-Book
Empowering Next-Gen MSPs with AIOps
As Managed Service Providers look to move beyond break-fix RMM services and onboard more customers, AIOps has become a key priority in improving the customer experience and future-proofing their business. And with rapidly evolving requirements and the need to discover unforeseen issues before they impact the customer, AIOps plays a crucial role in improving SLAs and empowering next-gen MSPs.